01 Mar

Top 20 of 2014: beat (16)
Written by wormi in Community / Trackmania² Stadium

This is the fifth article about the top twenty TrackMania²: Stadium tech drivers of 2014. For some more information, see the first post.
beat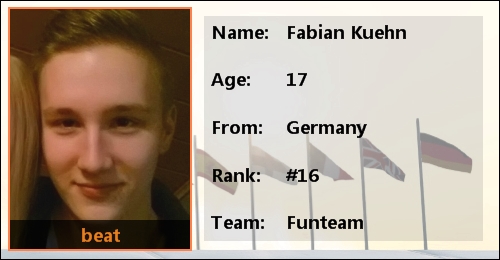 In the 16th spot on our list we have

Fabian "beat" Kuehn. Despite being just 17 years old, Kuehn has proved that he has all it needs to become a top class driver.
Kuehn started the year in BX3, and took third place in CPS 12 along with his team mates. He was a key player in the semi final match against Team Acer, beating

Michael "PokeR" Neuhold 7-2 in the one versus one submatch. Excluding a beautiful overtake by Neuhold in the last corner on fourth round, all the highlights were driven by the young German. Kuehn was also on form during the 3v3; he, along with team mates

Michal "Flyer" Vo and

Dennis "dNs" Latz, took the sub 7-3. The semi final went to a decider match, and despite Kuehn's efforts in both this submatch and the regular five versus five before it, BX3 couldn't do enough to continue their run in CPS12.
In the TrackMania Masters Cup Series played in February, Kuehn took fourth, while

Thomas "Serbi" Pedersen dominated the match. Making it into the final is a decent result, yet Kuehn could have ended up a lot higher as well without crashing several important rounds.
Just a week later, he managed to reach the semi finals of Alienware Cup #38, knocked out in 5th-8th position by

Dennis "
Scrapie
" Heinen and

František "
NeO
" Filiačs
.
Kuehn was back in action a couple of months later in May, and did it with style winning myRevenge Cup #1 against players such as

Tim "Spam" Lunenburg. He and Lunenburg were close in points for much of the grand final, but Kuehn managed to break away, and closed the match before any of his three opponents reached finalist mode. In another ESL league played over the summer, CPS13, BX3 with Kuehn took another third place. He didn't play in decisive semifinal match, but showed good speed over the season, often taking a top spot on the scoreboard. One of his best performances was beating his old Funteam team mate

Thomas "
Pac!
" Cole 7-4 in a 1v1 submatch during the groupstage.
After CPS13, perhaps frustrated that his performances for BX3 didn't lead the team to greater success, got a trial in Team Dignitas. Over the autumn Kuehn had a lot good performances. In August, he managed to take second in THC Solo Cup behind

Benjamin "Kronos" Suzenne. Kuehn reached finalist mode as first player, but didn't manage to win a round before Suzenne reached finalist as well, who won the cup as Kuehn crashed under the pressure. In September he won DDE twenty-four hour road race rather easily with Dangerous Divas, a team including him,

Carl-Antoni "
Carl Jr.
" Cloutier,

Armin "
TaLa
" Van de Venn and

Philippe "
wally
" Trudeau. In November, Kuehn took second place in both Stadium Team Competition 10 with Dignitas and Nations Cup 9 in the lineup of Germany. Kuehn didn't play a great number of matches with Team Dignitas, but did his job in the matches he played. In CPS14 he drove in two matches during the groupstage, and got most points against Very Short Players.
Beat tops the scoreboard against VSP in his last match with Dignitas. Credits: ESL
Despite Kuehn playing the year well and having several good results, inactivity during his Dignitas trial meant that he did not get a spot on their lineup, and returned to his old team Funteam for 2015's events. In addition, Kuehn didn't take part in a single offline event, and hence didn't prove himself to be able to perform under high pressure in that environment. It appears that Kuehn doesn't have time or interest to compete in top teams right now. That being said, the current Funteam lineup, with players such as

Martin "
Kappa
" Krompolc,

Cosmin "
nevermind
"
Mihalcea, is looking like it could challenge the recognised top teams.
With all things taken into consideration, Kuehn takes the 16th place.
Video: myRevenge Cup #1 Grand Final, POV by Spam