02 Mar

Top 20 of 2014: Tamarillo (15)
Written by leo in Community / Trackmania² Stadium

This is the sixth in a series of articles revealing the top twenty TrackMania²: Stadium tech drivers of 2014. For more information, see
the first post
.
Tamarillo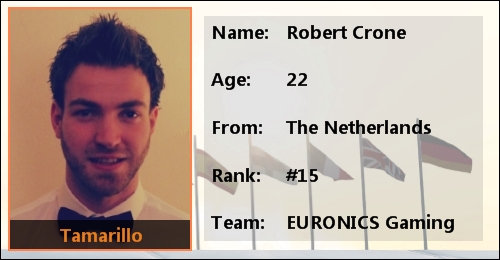 Occupying the number fifteen spot in our list is

Robert "
Tamarillo
" Crone, a Euronics player formerly of Team Acer, and before that Team Dignitas. Crone played few online matches over 2014, and they were thinly spread, but placing eighth at Electronic Sports World Cup (ESWC) certainly shows that he is deserving of a spot in our ranking.
Crone spent the first seven months of 2014 racing for Team Acer, a squad that he had been a part of since July 2011. In January, after missing the semi final of Electronic Sports League's CPS12, he played in the competition's grand final against Team Dignitas.
The one versus one saw

Carl-Antoni "
Carl Jr.
" Cloutier, current world champion, go head to head with Crone. After initially struggling, Crone started a comeback that put both players on six points, meaning the match would go to tennis mode. After this, however, Cloutier was able to close the match, winning the next two rounds. Although Crone lost the submatch, it is impressive that he managed to challenge arguably the number one tech driver. The Dignitas squad took the grand final four points to zero.
The fantastic form shown by the Dutchman was not something he was able to maintain for the remainder of his time in Acer. A month after the CPS12 grand final, he was knocked out of Alienware Cup 38 before the quarter finals by

Luka "
Mesko
" Mesaric and

Leo "Leo" Falcomer-Dawson.
After this, Crone became somewhat inactive, and seemingly favoured playing high-stakes matches over the following five months. He played two matches during the TMM playoffs; the round of sixteen game against Very Short Players, and the semi final match against Team Dignitas. He played a total of three submatches against these opponents, with relatively average points totals (he was always at least fifteen points behind the points leader in each match).
The story was much the same in CPS13: out of seven group stage games, Crone played just one. Further, the only other CPS match he played that season was the grand final, where he faced the likes of Cloutier,

Jesper "
KarjeN
" Karjalainen and newly-active

Henri "
Insane
" Kyynäräinen in the five versus five submatch. Although not worse than his team mates

Ördög
"
Royal
" Botond and

Koen "
Koenz
" Schobbers, the fact that the three of them occupied the bottom three spots on the scoreboard meant that Dignitas would take the submatch.
These are not the sort of results we think of when we hear the name "Tamarillo", and they alone would not have earned him a spot in this list.
What did impress us was Crone's great run at ESWC over the first weekend of November. Held during Paris Games Week at Porte de Versailles, Paris, the tournament is the largest and most anticipated annual event in TrackMania²: Stadium.
Crone started off strong, placing second in the Time Attack seeding event behind defending champion Cloutier. The contestants then headed to the first round of the winners bracket. Crone, up against team mate

Pascal "
DeviL
" Albusberger and Kyynäräinen from Dignitas, was the first to reach finalist mode. Finalist mode is notorious in the sense that it can be very difficult to win the final round in order to close the match, and Crone initially fell victim to the pressure, allowing Kyynäräinen to win two rounds and reach finalist also. A close battle followed in the next round, but Crone gave that extra 1% and was victorious.
Crone staying focused at Electronic Sports World Cup.
In his next match, Crone faced tougher opponents: 2011 world champion

Erik "
hakkiJunior
" Leštach,

Andy "
Sabre
" Wilson and

Dennis "
dNs
" Latz. Wilson, who looked well-prepared before the match, dominated for the first few maps, reaching finalist mode before the others were in reach. However, the more experienced Crone was able to stay focused, and caught up to the Brit to reach finalist mode himself. The Dutchman then finished his incredible comeback by beating Wilson to take first place in the match. Wilson took second, sending Leštach and Latz to the losers bracket.
The third round of the winners bracket was naturally a lot more competitive, and Crone found himself matched up against players he was perhaps more used to meeting on LAN.

Marek "t
ween
" Pacher,

Tim "Spam" Lunenburg and

Yoann "
YoYo
" Cook were all on fine form, and Crone had a hard time keeping up with them. Lunenburg and Pacher went through to the winners bracket final, and Cook, who would eventually make it to the competition's grand final and along with Pacher and Lunenburg, fell to the losers bracket along with Crone.
The next matches were played the following day. Crone appeared to have put his last defeat behind him and started strong. After the second map, he had the second most points, sandwiched between 2013 finalists Schobbers and

Fredrik "Bergie" Bergmann. The match was dominated by these three players, and Bergmann was the first to reach finalist mode. The next round saw Bergmann close to winning the match, and he most likely would have if it was not for

Peter "znik" Skarstein, who won one of his first rounds of the match after a poor first few maps. Crone took second the following round behind Schobbers, reaching finalist mode, and took first place in the match the very next round.
This took Crone to the losers bracket final. Similarly to before, Bergmann reached finalist mode first, but this time was able to win a round on his first try. Crone's remaining two opponents, Cook and

Titouan "
OmnipotZ
" Le Maner, were spurred on by the crowd, and despite his best efforts, Crone was unable to hold it together long enough to reach finalist mode. Cook progressed to the consolation final, while Le Maner and Crone took third and fourth respectively, meaning they placed 7th and 8th in the tournament.
Crone always expects great things from himself, and was no doubt disappointed that he did not play better during his final match. In an interview after he was knocked out, he did admit that he had "never been at a world championships before with this level", quite a statement considering he attended ESWC in 2010 and 2013, and also the World Cyber Games in 2009. If his 2014 result tells us anything, it's that you can count on Crone to put on a show and challenge the very best under high pressure, a quality that we believe separates the great from the good.
With that, Crone takes 15th in our Top 20 of 2014 ranking of Stadium players.
Losers bracket semi final, casted by frostBeule.