31 May

ESL CPS 15 preview
Written by wormi in Competition / Trackmania² Stadium
ESL is back with another Competition Premiership Season which is overall the fifthteenth season of the league. In total, 46 teams have registered, and they're placed in six divisions. What is interesting in this edition is the lack of frostBeule's Team Acer, who didn't manage to get a lineup ready for the tournament after PokeR and B3pp0'92 left the team some time ago. Therefore several teams will have Acer players as their guests and that can change the old balance between teams. In this preview, we will go through the divisions and players, mentioning the most interesting picks and more detailed comments about the top divisions.
---
In the first division that is also called Premier League we have eight teams: Team Dignitas, PENTA Sports, BX3.TP-Link, Easy.eSports, Against All Authority. Funteam!, ATGaming and Back 2 Business. The last two are new in the first division, while others competed there already the previous season. We will go through the teams one by one.
Team Dignitas won the previous season of CPS after tight battles, and as always they begin the season as favorites. The team led by ESWC 2010 champion Bergie is able to beat anyone with their all-star lineup containing another ESWC champion from 2012, Spam, and of course the double-champion from past two years and the winner of Top 20 Players of 2014 list, Carl Jr. As a newer member Dignitas have taken Sabre, who already proved his skill in iGn and Acer after coming back to competitive Trackmania one year ago. However, the team's former superstar KarjeN isn't active anymore, which means that Sabre and others have a big hole to fill. Nevertheless, Dignitas is once again the favorite team to win the season with really skilled lineup
Dignitas lineup:
Bergie, Carl Jr., Insane, JonNo, nugget, Pac, Sabre, Spam, TripleX
PENTA Sports is another top candidate to take the season. The lineup is wide and full talented players, and with their newest addition PokeR who previously played for Team Acer they are now stronger than ever. Scrapie and Zack already placed in Top 20 of last year, and also MiQuatro and DNS are known to play well in team tournaments. Unfortunately, they lost ChillerSide due to his working schedule, but former Dignitas member Extreme joined to cover him. Captain Renew has also recruited some other new players, from which the most merited one might be 2012 Canyon ESWC champion klovni.
PENTA Sports lineup:
Renew, DNS, Dovi, Extreme, JoDooky, klovni, MiQuatro, PokeR, Safran, Scrapie, swoopy, Zack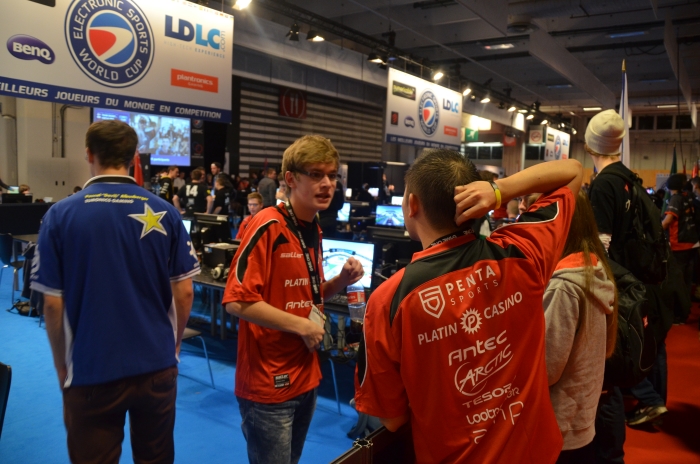 Scrapie and Safran have planned something for the CPS.
BX3.TP-Link led by znik and Krijn is another of the biggest favorites to take the CPS title. Captain znik has many talents by his side, including Czech and Slovakian powerhouses Flyer and NeO, the experienced CiaP and Leo, who has also took part in ESWC last year. Besides that BX3 has one of the most promising talents, JaviFlyer, who has proven to be a great player already in previous tournaments and keeps improving all the time. They don't have their superstar TaLa in the lineup due to his inactivity, but the lineup is still strong and broad making the team very flexible, just like PENTA. This gang is the third out of four top favorites to advance in playoffs for sure.
BX3.TP-Link lineup:
Krijn, znik, bAp, Battou, CiaP, Flyer, JaviFlyer, Leo, Lund, NeO, Ranked, wh1sper
Funteam! is the fourth favorite for the season after their strong performances in TrackMania Masters tournament a month ago. While having known players such as Kappa, beat and serif, they also have two strong guest players, tween from eSuba and Royal from Team Acer. Nevermind and xxrider as captains have a great lineup that has loads of both speed and experience in their hands, and therefore we can expect the team be able to beat anyone, and challenge the previous three for real. With a player like tween in lineup they can do anything.
Funteam lineup:
nevermind, xxrider, beat, Default, Habi, Kappa, Kinch, Kulvi, Revolution, Royal, serif, tween
Easy.eSports alias Easykiller is a German-based team with numerous fast players. They did well in the previous season until losing to BX3 in quarterfinals. Under the leading of paxmower the lineup contains players such as Banane, SPEED U NEED and really experienced oNio. Also the other lineup is fairly solid, and the team will be able to challenge the top four, even though they aren't favorites. Besides that this might be the final breakout of Passi, who already has got nice performances o stadium after getting on top level on TMUF and Canyon. If the key players are on point, anything can happen.
Easy.eSports lineup:
paxmower, Banane, Barbos, Champii, Coscos, funstyle, kenny, oNio, Passi, Robin, SPEED U NEED
How can Easykiller do without TripleX, who has joined the Dignitas forces?
Against All Authority is the French team with most of the best French players. Snaky's team includes a lot of talent in form of ESWC France champion and latest Gamers Assembly winner Kronos, super experienced YoYo and also some other scary players such as aswer and Koryad. The lineup relies a lot on Kronos's incredible performances, but surely have enough talent to take points from the top four and on a good day even win them. Never underestimate the French Trackmania.
Against All Authority lineup:
Snaky, aswer, Bubus, Cocow, Koryad, Kronos, Papou, Silver, Slowarse, YoYo
ATGaming is the first new team in division 1. The team previously known under name V+ (Positive Vibrations) and formerly Druidz is led by ässerich, and include a lot talent from all over the Europe, but their biggest challenge might be to have enough motivation to win. Besides some known players such as röa and danös the team has also Euronics' Massa, who was ranked in top 6 players of last year, as their guest player. The question mark will be the performance of some less experienced players, and lack of members such as B1ts and dejay. If they do fine, the team is able to beat anyone on a good day.
ATGaming lineup:
ässerich, danös, HymeX, JohN, kev, link, Massa, röa, Schwabe, Slinky, zad, Ziggy
Roa and Massa have reunited for the CPS.
Back 2 Business contains numerous old players who used to be inactive for a while, and took the Acer's spot in premier division after good results in TMM after deciding to join the league. Led by HM, the team contains old star and WCG finalist PeZi, ex-Acer player B3pp0'92 and some other known players such as wally. The team has really much skill and potential to beat almost anyone, but the main problem might be their motivation – most players were kind of retired before coming back after all. We neither know how well some of them have adapted the TrackMania 2 Stadium.
Back 2 Business lineup:
HM, B3pp0'92, ClicK, Corey, kuduro, mael, Mel, PauLL, PeZi, rewind, Shark, wally