02 Apr

Top 20 of 2014: tween (2)
Written by wormi in Community / Trackmania² Stadium

This is the nineteenth in a series of articles revealing the top twenty TrackMania²: Stadium tech drivers of 2014. For some more information, see the first post.
tween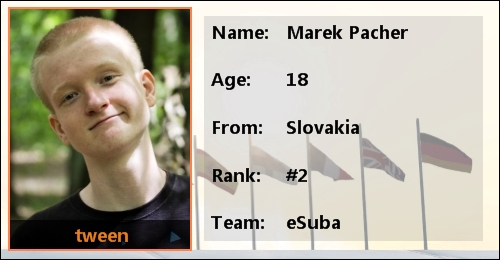 It may come as no surprise that in second place we have

Marek "
tween
" Pacher. Despite being just 18 years old, he is already a really experienced and accomplished player in the scene. With two ESWC runner-up positions going into 2014, everybody looked to him to perform well again during the year. He did just that, with victories both online and offline against tough opposition.
His first victory in 2014 came in February when he won the sixth True Talent Cup by TrackMania Masters. The now-weekly cup series sees gamers play on never-before-seen maps, and attracts many top competitiors.
Pacher's first big tech event of 2014 was the 38th Alienware Cup, which he took part in after a small break from the game. He had a good run until he lost to

Dennis "Massa" Løtze and

Dylan "Zack" Delhaye in one of the semi-finals, securing a top eight position.
Next up was Trackmania Masters Team Cup's 2014 edition, which Pacher participated in with his eSuba teammates. He was one of the best, if not the best, eSuba players in their group-stage matches, and led his team to the playoffs.
Rather unfortunately, the team they met in the first playoffs round was Team Acer, one of the favourites to win the tournament. They lost the first map without winning a single round, and Pacher, outdone by the Acer players, sat in the middle of the score table. However, on the second map eSuba fought back hard, taking the map to tennis mode.

Martin "
Kappa
" Krompolc and Pacher were both within the top three players of the map, but

Michael "
PokeR
" Neuhold topped the scoreboard with an incredible display of ability, carrying Team Acer to victory and knocking eSuba out of TMM. The same two eSuba players were in top three on the third map, which they played just for fun, but in spite of that Acer won it 7-3. A slightly disappointing result from the Slovakian and his teammates, but not entirely unexpected given that they are their best in offline tournaments.
In mid-April Pacher travelled to France with his eSuba teammate

Erik "hakkiJunior" Leštach to take part in Gamers Assembley. In the first round of the tournament, Pacher surprisingly lost to

"Scream", but nonetheless proceeded to the next round by taking second. There, he stepped up his game and beat former GA-double-champion

Yoann "YoYo" Cook,

Nicolas "
Snaky
" Genet and

"
Lemon
" to advance to third the round of winners bracket.
In the third round, he met

Lauoenan "
zo0m
" Le Corguillé,

Florian "
aswer
" Domitile and

"
rude
". Pacher took the tough French opposition in his stride and continued to winners bracket final. There, he faced Domitile, Leštach and

Benjamin "
Kronos
" Suzenne. The Slovakian eSuba duo triumphed against the local players, and continued to the grand final. Suzenne and Le Corguillé were also there to compete for the title after taking the top spots in the consolidation final.
Pacher took a huge lead early in the match; when Leštach stood in second place with 18 points, Pacher had already amassed 34. Suzenne began to find form halfway through the match, but Pacher reached finalist mode with 120 points when Suzenne was still on 101 points, and thus had ample time to take first place. The young Slovakian didn't look entirely confident on the map "SPRING'14 – Radioactive", and Suzenne won both following rounds to become finalist as well. Pacher crashed the following round, but so did Suzenne, and the game was still on as the map changed. That was good news for the eSuba star, and after both Suzenne and Le Corguillé crashed, and Leštach clipped a wall, Pacher took first place and won the tournament. Even though he appeared to feel pressure and stumble after reaching finalist mode, his play throughout the grand final was far better than that of his opponents.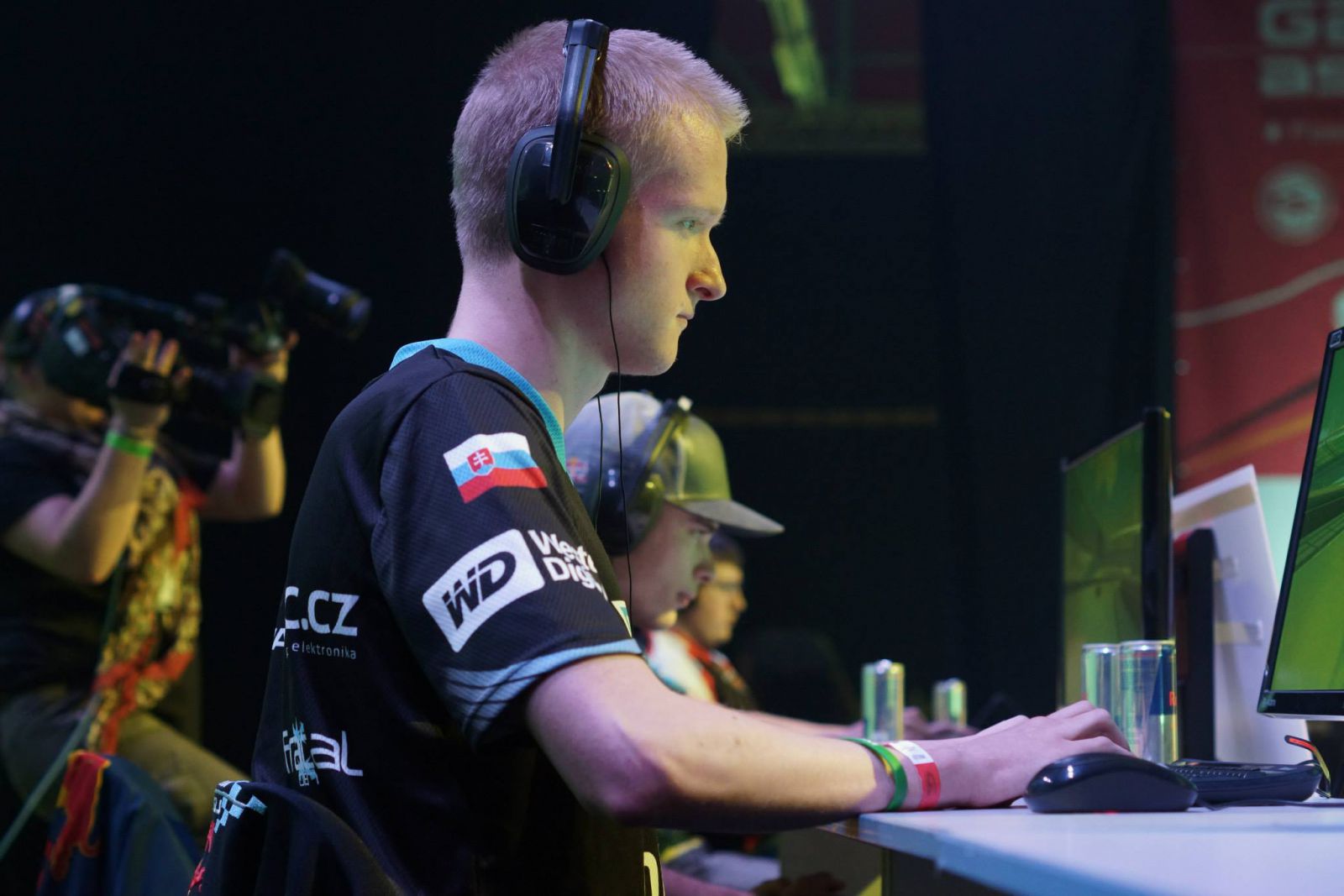 Pacher concentrating in Poiters. Picture: Gamers Assembly.
In May started the ESL CPS 13 tournament, and Pacher alongside

Jakub "
kubayz
" Faul joined the French PyRoGEN lineup as guest players, racing alongside their GA opponents Le Corguillé and Domitile. Pacher, didn't play every match, missing matches including the group-stage match against Team Dignitas. However, he had influence when the team thrashed both Funteam and Against All Authority in the group stage. He also played well against Team Acer, scoring as many points as

Kalle "
frostBeule
" Videkull in two-on-two submatch.
In the quater-final they faced up against BX3, but despite the PyRoGEN players' best efforts, they were no match for

Dennis "
dNs
" Latz and the other BX3 players. PyRoGEN finished the ESL season in fourth place.
Pacher didn't take part in solo cups such as the myRevenge Cups or Stadium Giant Cup 1 during the summer and early autumn. The only event he entered over this period was the 2v2 TmT Multilaps tournament with

Jakub "kubayz" Faul. They had a good run, and made the grand final of the competition after defeating tough opponents in the quarter-finals and semi-finals. In their quarter final match, they met Against All Authority duo

Benjamin "
Kronos
" Suzenne and

Yoann "
YoYo
" Cook, perhaps the two best French players. Pacher was clearly the best player on laps tracks, and topped the scoreboard on both maps to win 2-0.
His performance in semi-final against

Titouan "
OmnipotZ
" Le Maner and

Romain "
Roa
" Aillet was also good. Pacher took an impressive 42 points on the first map, while all others had only 29, but on the second map Le Maner played incredibly well, gaining more points than the others and taking the match to a third map. Despite Le Maner's skills there, Faul stepped it up and with Pacher won the map 5-3. The grand final saw them face Dignitas's

Carl-Antoni "
Carl Jr.
" Cloutier and

Fredrik "
Bergie
" Bergmann. Pacher continued his good play, but his Achilles' heel Cloutier was clearly better, and the Canadian driving world records on the second map ensured neither Pacher nor Faul had the power to stop Dignitas taking the match 2-0. We saw great things from Pacher throughout the tournament, and it's fair to say that he was the second best player in it behind Cloutier.
In late October Pacher again headed to France, this time for Paris Games Week, at which the long-running yearly TrackMania championship Electronic Sports World Cup was played. Pacher entered the tournament as one of the favorites, and looked well prepared to challenge Cloutier for the title. He certainly did not want to crash out before the grand final as he did in 2013. A day before the start of the event, he played and won a True Talent Cup, maybe giving him an extra confidence boost going into the year's biggest LAN event.
The first day of the event began with Time Attack seeding, and as Pacher took the third best position in the seeding, he ended up in same bracket with

Tim "
Spam
" Lunenburg and

Jonathan "
Slink
" Stenström (who was then known as "
Manta
"). There were no surprises in this first match and Pacher continued to next round, where he met the 2013 bronze medalist

Koen "
Koenz
" Schobbers, 2010 champion

Fredrik "
Bergie
" Bergmann and relatively new player

Leo "
Leo
" Falcomer-Dawson. Again, Pacher looked confident, and he along with second-place Schobbers proceeded to the winners bracket semi-finals. The Slovakian completed a hattrick of wins on the first day to proceed to the winners bracket final. Lunenburg got through with him, and together they sent French favorite Cook and

Robert "
Tamarillo
" Crone to the losers bracket. A near-perfect day for Pacher, who now more than even looked likely to reach the grand final and give Cloutier a run for his money. He was so in form and focused that he managed to drive a new world record on "ESWC 2014 – Kaksseiskatseta", and to this day remains the only player to have a time under one minute and 2 seconds.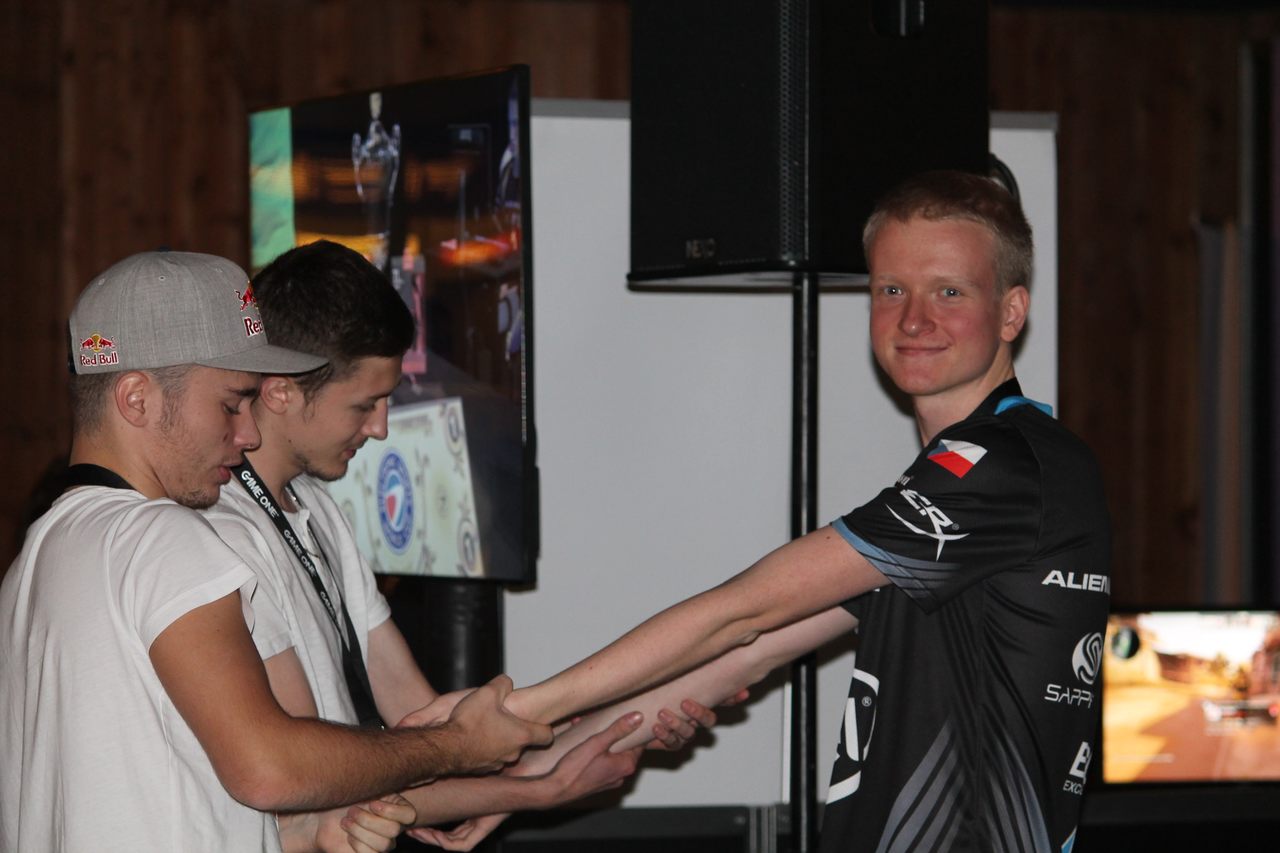 Pacher reciveing last minute massage from his team mates. Picture:
Gabriel "Gaby
" Guibert
The next day, however, didn't begin as planned. In the winner bracket final Pacher and Lunenburg met Cloutier and

Andy "
Sabre
" Wilson. Cloutier took a big lead from the start, and Pacher was tied with Lunenburg up until the midpoint of the match. Instead of launching a comeback and challenging Cloutier for first, things got worse for the young Slovakian, and when Cloutier won the match, Pacher was in last position. Despite being better on the last map it was Lunenburg who continued to the grand final, and Pacher was sent to consolidation final.
There he and Wilson met Cook and Bergmann from losers bracket. This time Pacher started off as he intended to finish the match: in first place. The match was paused after fifteen minutes of play due to a problem with server. Pacher managed to recover well after the pause and continued to lead the match. He reached finalist mode first, but two round wins for Cook gave the French hope a spot in grand final. Wilson looked as though he might catch up to Pacher points-wise, but in the end it was the Slovakian who earned the last spot in the grand final.
The feeling at the stage was awesome, with all the players and fans cheering for their favorites. The four finalists: Cloutier, Lunenburg, Cook and Pacher himself, all looked ready to give it all they had. The final began amazingly for the Slovakian; after winning the first two rounds, Pacher was only two points behind Cloutier, who was given a ten point lead at start since he came from the winners bracket. However, after the first map, the Canadian slowly but surely began to regain his lead. The fourth map started with Cloutier being a finalist, and Pacher was as much as 28 points behind. Cloutier took first place and the championship on his first try as finalist, and a map and many rounds later, Pacher took his third ESWC second place. Cook would then take third while Lunenburg finished fourth.
Overall, the event was great from Pacher, and despite being a bit sloppy in winner bracket final, it was clear that he was the second best player of the event, behind the defending champion and favourite Cloutier. Pacher admitted that he was happy to finish second place, showing respect for Cloutier rather than disappointment because of the loss.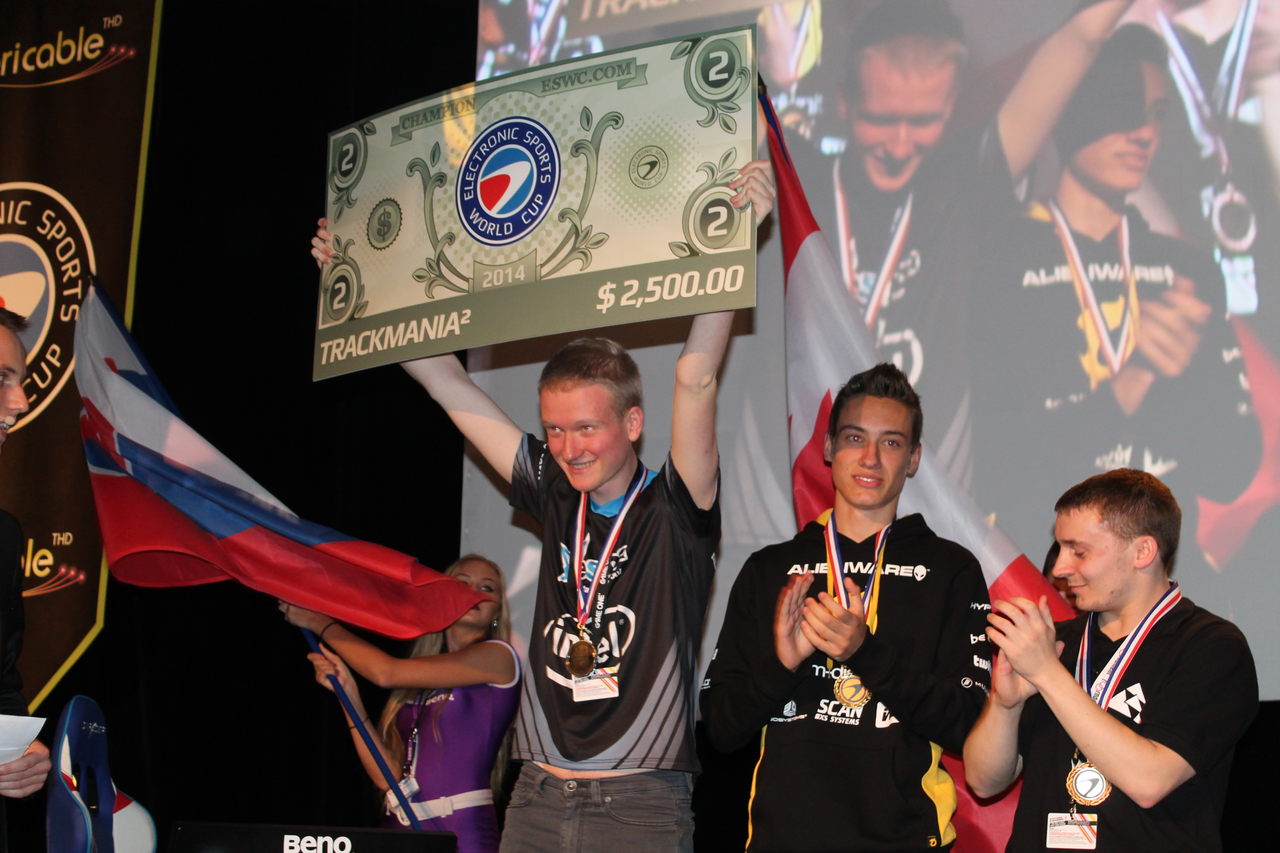 The happy silver medalist. Picture: Gabriel "Gaby" Guibert
After ESWC, Pacher kept driving in ESL's Go4 TrackMania Cups, where he also had good success. After dropping out rather early in his first cup, he came back a lot more prepared for his second try. In December's third one-day cup he reached the final against

Andy "
Sabre
" Wilson,

Peter "
znik
" Skarstein and

Sander "
Sandder
" Kuusik. At one point Kuusik, Wilson and Pacher were all finalists, but Pacher took the following round and won the cup. A week later the Slovakian also drove in the fourth edition of the cup. This time he took second place, while Wilson won and

Dennis "
Massa
" Løtze was third.
Pacher also started ESL CPS 14 season with Funteam, playing actively in the group stage during December. He played well, and for example topped the points list against Team Acer in the three-on-three easily. He also beat Kuusik in a one-on-one in Funteam's match against Very Short Players, and despite Kuusik dominated in the three-on-three, Pacher was on fire again during five-on-five and was one of the biggest contributors to Funteam's submatch win.
One of Pacher's best CPS14 performances was taking 64 points in the three-on-three against BX3, meaning he took average 5.3 points per round out of 6 possible. In addition he took most ponts in the five-on-five as well. However, he also lost some matches as the favorite, for example an one versus one against

Leo "
Leo
" Falcomer-Dawson earlier in the same match. Either way, the CPS14 groupstage was probably one of the best team leagues Pacher has ever played, making it a great way to end the year.

Marek "tween" Pacher's year in 2014 was, to put it simply, outstanding. Winning the second biggest LAN in Gamers Assembly and taking second at ESWC are impressive achievements. Moreover, Pacher played well in online matches as well, and was able to win on almost every occasion that he prepared properly for a match.
With all results and performances taken into consideration, we conclude that Pacher was the second best player of the year.
Video: Gamers Assembly 2014 Grand Final (starts around 55 mins)