23 Mar

Top 20 of 2014: Kronos (4)
Written by wormi in Community / Trackmania² Stadium

This is the seventeenth in a series of articles revealing the top twenty TrackMania²: Stadium tech players of 2014. For more information, see the first post.
Kronos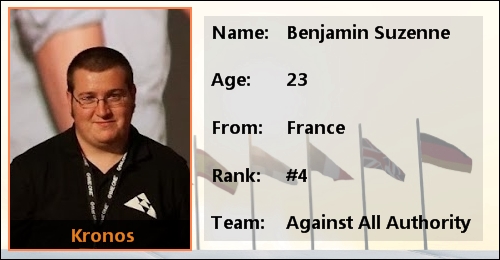 The fourth best player of 2014 was

Benjamin "Kronos" Suzenne, an active player who rose to stardom last year after showing lots of potential in 2013.
Although now under the Against All Authority banner, Suzenne was still playing in Happy Multigaming at the start of the 2014. His first event was the TrackMania Masters Cup Series, in which he made it to the grand final.

Thomas "Serbi" Pedersen started the final really well, while Suzenne was initially somewhat shaky. Pedersen went on to dominate the match. Meanwhile, Suzenne found himself battling with

Dylan "Zack" Delhaye and

Fabien "beat" Kuehn for a podium spot. Suzenne managed to improve his already good driving, and took second place as a result.
The next event for Suzenne was Gamers Assembly 2014. He was one of the favorites, alongside established players such as

Marek "tween" Pacher and

Yoann "
YoYo
" Cook. His first of the harder matches he played was the third round winners bracket match against Cook,

Erik "
hakkiJunior
" Leštach and

Côme "
Cocow
" Marquet. Despite driving against players who have had success in LAN events before, Suzenne held his nerve and managed to win the match, and continued unbeaten to the final of the winners bracket.
This time, eSuba players Leštach and Pacher were too good for the Frenchman, and he with Cook,

Laouenan "
zo0m
" Le Corguillé and

Florian "
aswer
" Domitile had to drive for the last two grand final spots. To the surprise of many, Le Corguillé was the one to win the match, but Suzenne took second and earned his place. Suzenne played well, but Pacher was simply too difficult of an opponent for the Frenchman to overcome. Suzenne did, however, get revenge on Leštach, and finished in second place in front of the Slovakian, who took third. The result was as good as we expected from Suzenne, although few anticipated he would reach the final through the losers bracket.
Suzenne between the eSuba players on podium. Picture: RedBull
After success at Gamers Assembly, the next competition in line for Suzenne was ESL CPS13. Despite proving himself as a serious opponent to top players, he continued in his team, Happy, this time in second division. They finished as the fourth team of division two, winning matches against GamersLeague and Fanatics!, but at best earning draws from their other matches. He had numerous impressive performances, and was one of the best players of the division along with

Florian "
oNio
" Roschu from Easykiller. If not earlier, at this point it was clear that Suzenne would benefit from joining a team of similarly-skilled players, and he subsequently joined Against All Authority soon after the ESL season finished.
While CPS13 took place, Suzenne took part in two myRevenge Cups. In the second cup—the first one he played—he made it to the grand final. His opponents were

Tim "Spam" Lunenburg, who took second in the semi-final Suzenne won;

Dennis "
Massa
" Løtze and

Ördög "
Royal
" Botond. However, Suzenne collapsed in the final, and while Lunenburg won the cup, he ended up fourth. Although he drove fairly solidly, many assumed, quite reasonably, that Suzenne would make the podium, if not win the event.
In the third myRevenge Cup, Suzenne made it to yet another grand final. He didn't win any of his matches leading up the final itself, instead consistently taking second in order to progress through the competition. Like last time, Suzenne took the fourth place, while Botond won and

Michal "Flyer" Vo took third between

Titouan "
OmnipotZ
" Le Maner and Suzenne. Another commendable performance, but also, another example of a time when the Frenchman appeared to underachieve.
Soon after CPS Suzenne took part in THC SoloCup 3. He (rather easily) made it into final, where he met

Fabien "beat" Kuehn,

Yoann "
YoYo
" Cook and

Tobias "
shorty
" Rouschal. The match was quite tight, and no one seemed to be a clear favourite at the halfway point; Rouschal led, with the others close behind. Despite this, it was Kuehn who got finalist before the rest, but Cook denied his victory by beating him with 14 thousands of a second, and then took another first place the following round. Thanks to that, Suzenne, Cook and Kuehn were all finalists, and it was open for anyone. Kuehn had a dream start, but Suzenne came back strongly when it mattered the most and won the round, securing first place in the cup.
Suzenne participated in Stadium Giant Cup 1 in September. Suzenne, a favourite to excel in the tournament, continued his impressive streak and made it into final, where he met Lunenburg,

Fredrik "Bergie" Bergmann and

Dennis "Scrapie" Heinen. Lunenburg was a strong opponent right from the start, and hung close to Suzenne in second place while Heinen and Bergmann were clearly weaker. Suzenne reached finalist mode while Lunenburg was still over 10 points away from the limit, which allowed him two attempts to win a round before someone else would be able to do the same. On his first try, Lunenburg won over the Frenchman with two hundreds of a second, but Suzenne took the first place the following round. His victory puts him alongside previous Giant Cup winners

Kalle "frostBeule" Videkull,

Robert "Tamarillo" Crone and (now retired)

Vincent "
ArtiShöw
" Woźnica.
In late October, we saw the best TrackMania²: Stadium tech players compete at Electronic Sports World Cup in Paris. Suzenne, like almost all French players, had to take part in ESWC France to fight for one of two spots in the main event (Cook was given a direct spot in the international competition due to his previous achievements). Suzenne won the time attack seedings in front of Le Maner, and after a couple of matches he found himself in the winners bracket final against Le Maner,

Florian "
aswer
" Domitile and legendary 2006 ESWC champion

Dorian "
Carl
" Vallet. Le Maner was the first player to reach the finalist mode and also won the match, but Suzenne took second and secured a spot in the grand final.
The four players from the winners bracket final met again in the grand final, as both Vallet and Domitile survived the consolidation final. Suzenne started off as he would have hoped, dominating the first half of the match, but began to lose his lead to Vallet and Le Maner as the match went on. By the latter stages of the final, all three of the aforementioned had similar points totals, and as a result they all reached finalist mode at the same time. Suzenne was the one to win the following round, and was crowned French Champion.
The next day, players from all over the world were set to give it their best in the international main event. Suzenne and Le Maner were placed in the same group due to how they did in the Time Attack qualifications, and they beat

Kasperi "klovni" Aaltonen and

Jakub "
kubayz
" Faul without major difficulties.
Suzenne's match was against

Dennis "Scrapie" Heinen,

Tim "
Spam
" Lunenburg and

Peter "
znik
" Skarstein. Suzenne managed to win, and continued in the winners bracket to meet current world champion

Carl-Antoni "
Carl Jr
." Cloutier,

Andy "
Sabre
" Wilson and

Koen "
Koenz
" Schobbers. The players were all performing at a high level, with Cloutier playing one of his best matches of the tournament, and to the surprise of some Suzenne was knocked to losers bracket after being the worst player of the match.
The next matches were played the following day, mainly on stage in front of a live crowd. In the losers bracket, Suzenne once again met Le Maner, and the pair were joined by Cook and while

Dennis "
Massa
" Løtze. The match was close, and the two spots in the losers bracket final could have been taken by any of the four contestants. After the dust settled, Cook and Le Maner came out ahead, ending Suzenne's ESWC journey and ensuring that he finished in 11-12th place. Not a bad result for his first Electronic Sports World Cup, but it somewhat showed that Suzenne had trouble performing as he did online when under pressure at LAN.
Before ESWC took place, Against All Authority played matches in Stadium Team Championship 10, with Suzenne leading the way. For example, he scored the most points against Easykiller (eK) during the group-stage on two maps out of three, and was just two points behind

Andy "
TripleX
" Ko on the last one.
It was in the playoffs that Suzenne, with a new team and against harder opponents, showed that he could be the most influential player among other skilled drivers. aAa met Positive Vibrations (vplus) in their first playoffs match. On the first map of the match, "STC10/NC9 Hearts of the Yukon", Suzenne "went godmode", taking 98 points, 23 more than next-best player

Daniel "danös" Eiling and 33 points more than third

Romain "
Roa
" Aillet, carrying aAa to win the map 7-4. He continued his dominance on the second map, taking 111 points, exactly 20 more than Alliet and Eiling, but vplus was better overall as Against All Authority drivers, such as

Yoann "
YoYo
" Cook, underperformed heavily. If that wasn't enough, Suzenne also gained the most points on decider multilap, and because Cook found his form again, aAa took the match and proceeded to the quarter-finals.
However, Penta Sports proved to be too tough an opponent for the French team.. Suzenne again played spectacularly, but Penta was clearly the stronger team, and gave aAa just one round win in two maps, continuing to the semis and leaving Suzenne's squad in their wake.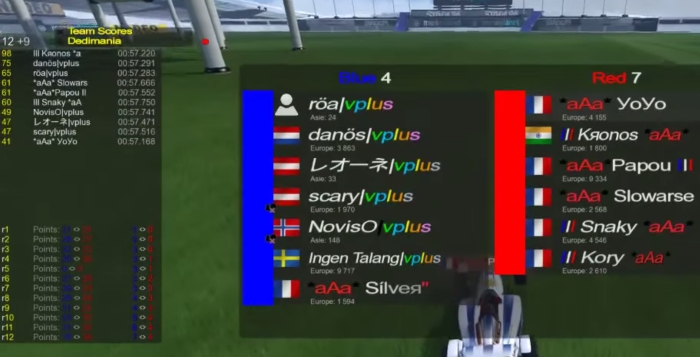 Suzenne dominating against vplus.
Coinciding with STC was Nations Cup 9, and Suzenne was the star amongst an array of fantastic French talent. He was one of the best if not the best on each map he drove in group stage and playoffs. In the grand final, France met Germany, and this was the first match in which Team France were truly challenged. Surprisingly, Suzenne was the worst player of his team on the first map, but thanks to

Dylan "
Zack
" Delhaye and

Titouan "
OmnipotZ
" Le Maner, France won it 7-5. Suzenne stepped it up and showed his skill on the second map, topping the scoreboard for France's 7-3 win. Suzenne's work helped to ensure that France were—once again—crowned as the champions of the long-running competition.
At the end of the year, ESL organized Go4TM cups alongside CPS14. The first Go4 event saw Suzenne make it to the final, in which he met

Peter "znik" Skarstein,

Andy "Sabre" Wilson and

Thomas "Pac!" Cole. Everybody except Cole was in finalist mode, and Suzenne took the match home after just barely beating Cole in a close round. He also took part in second Go4TM cup, ending up third behind

Florian "oNio" Roschu and

Dennis "
Massa
" Løtze.
In the CPS14 group stage, Suzenne played as we have to come to expect: fast and consistent, and more so than almost any other. He defeated

Joachim "
xxRider
" Andersen in one-on-one and dominated the five-on-five against Funteam. He also won against Cole in the one-on-one submatch in Against All Authority's meeting with Team Dignitas, and again gathered the most points in the five versus five (by a huge margin). In spite of that, aAa wasn't able to win the match, but it was clear that Suzenne had reached the point where he could regularly beat almost any player.
For

Benjamin "
Kronos
" Suzenne, 2014 was a breakthrough year. He finally moved to play for a top-tier team in late-summer, and frequently showed amazing performances over the year. He also proved himself mentally strong in both Gamers Assembly and ESWC France, and even though the international ESWC competition didn't go as planned, winning THC SoloCup, SGC1, one Go4TM cup and ESWC France ensure that he won more large solo cups than any other player in 2014. If he had secured a slightly better result at ESWC, the biggest offline event of the year, then there is no doubt that he would have made the podium in our ranking. All things considered, he takes a very respectable fourth place.
Video: ESWC France grand final, casted by Kalle "frostBeule" Videkull.