20 Mar

Top 20 of 2014: Sabre (5)
Written by leo in Community / Trackmania² Stadium

This is the sixteenth in a series of articles revealing the top twenty TrackMania²: Stadium tech drivers of 2014. For more information, see the first post.
Sabre
In fifth place we have

Andy "Sabre" Wilson. After a long hiatus from competitive TrackMania, Wilson returned to activity at the start of 2014, although it was during the second half of the year that he really started to shine and once again prove himself to be a player of the highest caliber. He had very few bad results from the matches he played over the year, and often placed outstandingly in solo tournaments. On top of this, he was instrumental in securing wins for his former team iGn-eSports in a multitude of competitions.
Wilson's first post-comeback matches were played in the TrackMania Masters Team Cup 14, with the mixteam "we hate ulows". After meeting

Mathias "Olas" Olastuen while playing Counter-Strike, Wilson decided to give competitive TrackMania another shot, and together they formed said mixteam. The tournament served to be little more than a chance for Wilson to get back to grips with the game after his long absence, but it should be said that he performed well against his group-stage opponents.
It was not until after the summer that Wilson played in a significant tournament, but he came back for arguably the most important event of the year: Electronic Sports World Cup.
Although Wilson qualified for the 2011 edition of the yearly TrackMania LAN event in Paris, he was unable to attend, and so last year's event was the first offline TrackMania competition he attended.
Over the course of the competition, Wilson played unprecedentedly well in a number of matches, especially on the first day. After edging his way into the top ten fastest Time Attack players during qualifying, he found himself up against fellow countryman

Leo "Leo" Falcomer-Dawson,

Phillipe "Remix" Alves and

Joachim "xxRider" Andersen. He quickly made it known that he was the strongest of the four players, leading for the majority of the match and beating Falcomer-Dawson—who was seeded higher than Wilson—to take first in the group.
In his next match, Wilson played even better, and outclassed his three opponents at the start of the match. In fact, by the time Wilson reached finalist mode, the next best player (

Robert "Tamarillo" Crone) had about 75 points. However, after dominating the match up to that point, Wilson then started to lose his grip on the match. His nervousness and inexperience were capitalised upon by Crone, he reached finalist mode himself and won a round to go through to the next winners bracket round. Eventually, Wilson won a round and took second, knocking

Erik "hakkiJunior" Leštach and

Dennis "dNs" Latz to the losers bracket.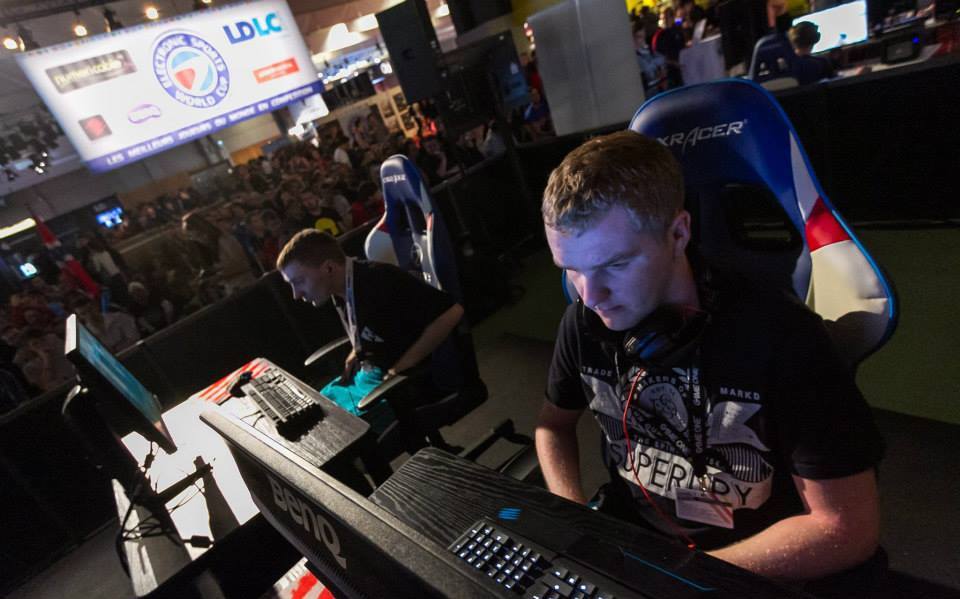 Wilson (right) during the consolidation final with Yoann "YoYo" Cook (left). Picture: ESWC.
Wilson would need to hold his nerve better if he was to progress from the the winners bracket semi-final that he landed himself in. Two 2013 ESWC finalists,

Koen "
Koenz
" Schobbers and

Carl-Antoni "Carl Jr." Cloutier, and French talent

Benjamin "Kronos" Suzenne, would next test Wilson's abilities. Cloutier was the clear favourite to win the match, and right from the get-go he was winning rounds, ensuring that he had a commanding lead after the first two maps. Suzenne made many mistakes in the first half of the match, and this left Schobbers and Wilson to battle for second. Cloutier went on to win, needing just three maps to do so, and at the same time, Wilson broke away from Schobbers, showing superiority on "ESWC 2014 - Blockage". On the next map, Wilson reached finalist mode, and had just a single round to finish the match before either of his opponents reached finalist mode too. As before, he struggled to convert a win right away, and needed two rounds to take second in the match and proceed to the winners bracket final.
Wilson's next match was played on the Numericable stage in front of a sizeable crowd. Unlike the players he faced, Wilson was a newcomer to the stage-limelight, and was the underdog against Cloutier,

Tim "Spam" Lunenburg and

Marek "tween" Pacher. Cloutier, as he did in his previous match against Wilson, won after being the lone finalist. Lunenburg, who played well and avoided mistakes, was second in the points ranking and had ten more then both Pacher and Wilson. Unfortunately for the Brit, he has unable to muster the same strength he had a day prior, and lost to Lunenburg in what was a close battle.
The consolidation final gave Wilson one last chance to make the grand final of the competition. A catastrophic first round forced Wilson to retire, but after that he got a foothold in the game. After two maps, the only player to have a slight advantage was Pacher;

Yoann "YoYo" Cook, Wilson and

Fredrik "Bergie" Bergmann were all within one point of one another. It was then that Cook and Pacher showed greater prowess than their opponents, and between the two of them won virtually every round played on the next two maps. After Cook secured a spot in the grand final, Wilson attempted a comeback to steal the second grand final spot from finalist Pacher. It was too little, too late for the Brit, who finished third in the match and therefore fifth at the event overall. Many of Wilson's opponents did not expect him to place within the top ten given his lack of offline experience, but instead he surprised them all with a remarkable run of successes, a truly commendable achievement.
Before Electronic Sports World Cup started, Wilson played with iGn-eSports in the group stage of Stadium Team Championship 10. iGn's Core team could not be placed among the ranks of teams such as BX3 or Team Acer, and Wilson took up a carrying role during his time there. iGn's most worthy group-stage opponents were Very Short Players, and when the two teams met, the winner of the match would get top-seed going into the playoffs. Wilson's game impact was great; he gathered the most points in each of the three submatches. iGn won the match, but their run in STC ended after a round-of-16 match against Team Acer, during which Wilson played reasonably well, but not well enough to earn iGn more than a couple of rounds. Nations Cup 9 coincided with STC10, and Wilson played with the UK team. He was good in these matches, but his performances cannot be given too much weight since both sides in the matches usually lacked fully-trained lineups.
It was not until the start of Competition Premiership Season Fourteen in December that we saw more from Wilson. The two teams Wilson played against with iGn were Positive Vibrations (V+) and TrackMania Heroes Europe (THE), and Wilson helped to dismantle both teams and earn his team valuable points against two of the second division's strongest teams. Versus V+, he bested

Sigurd "Ziggy" Mikkelsen in the 1v1, winning 7 straight rounds after losing the first three. After an outstanding 3v3, Wilson had a rather quiet five-on-five submatch, but did enough in his other two submatches to secure a draw. The story was much the same regarding the THE match. After a superb 1v1 against

Klaas "Phyter" Gercke, which Wilson won 7-1, he continued to top the scoreboard in the 3v3 and 5v5 submatches, winning almost every round and leading iGn to a win. While the opposition which Wilson faced in CPS was not as strong as some of the others in our ranking, he certainly shined above the rest to the extent that we can consider his performances noteworthy and significant.
A series of individual cups took place on the same ESL maps: Go4TM Europe. Wilson was extremely successful in the first four editions of the weekly cup series, taking first once and second twice in four editions. In the final of the cup that he won, Wilson defeated

Dennis "Massa" Løtze and

Marek "tween" Pacher, as well as

Dylan "Zack" Delhaye", while

Benjamin "Kronos" Suzenne and Pacher trumped him to take first the two times he was the runner up. Each cup had many skillful participants, and were surely the most important individual events in the tech scene post-ESWC.
In 2014, Wilson joined a group of less than ten players who have won more than one edition of the popular True Talent Cup competitions, hosted by TrackMania Masters, both after Electronic Sports World Cup.

Andy "Sabre" Wilson had a superb year in TrackMania. He proved himself as a formidable opponent in solo tournaments, as well as a key team player who plays as well as is needed. It is hard to pinpoint a single match in 2014 that Wilson severely underperformed in, and combined with an array of great results, we believe this makes highly qualifies him to take fifth in our ranking.
Video: Go4TM #4 Grand Final. Casted by : Kalle "frostBeule" Videkull.