18 Mar

Top 20 of 2014: Massa (6)
Written by leo in Community / Trackmania² Stadium

This is the fifteenth in a series of articles revealing the top twenty TrackMania²: Stadium tech drivers of 2014. For more information, see the first post.
Massa
Coming in at number six is

Dennis "Massa" Løtze. Although he currently plays for Euronics Gaming, throughout 2014 he participated in team and solo events with Team Dignitas. The German has a reputation for being an explosive presence on the track, capable of winning strings of rounds with impressive times, often in doing so turning the tide of a match. However, Løtze is also known to have crash-filled off-matches, and we saw examples of this in twenty fourteen.
Løtze's first 2014 result was a second-place finish in Alienware Cup 38. After he and

Dylan "Zack" Delhaye defeated

Marek "tween" Pacher and

Eric "
Shark
" Brems in the semi-final, they moved on to the grand final. Løtze's risky driving meant that he was usually either fighting for first place, or was dead last. Before the start of the final map, he had fewer points than his competitors; he launched a comeback, and almost took first place in the cup, but Delhaye was three hundredths quicker in the deciding round. Løtze instead secured second the following round after a close fight with

Dennis "Scrapie" Heinen, winning £100.
The end of Alienware Cup 38 marked the start of the 2014 TrackMania Masters Team Cup, and Løtze was important in helping his team win the tournament. Løtze played every map—in every match—for Dignitas in the playoffs of the tournament, including quarter-final, semi-final and grand final matches against BX3, Team Acer and Druidz respectively.
In the quarter-final, Løtze gathered more points than each of his opponents on all three maps, and on the first attained fourteen more points than the next best driver in the match. On the first map against Team Acer, although he did not exactly carry his team, he drove well in the crucial final rounds to secure his team the win. However, his second-map contribution was not far worse, as he crashed frequently and ultimately finished at the bottom of the scoreboard. However, the grand final went much better for the German, as he and teammates

Tim "Spam" Lunenburg,

Jesper "KarjeN" Karjalainen and

Fredrik "Bergie" Bergmann all played very well and left the Druidz players in their tracks to take the TC14 title.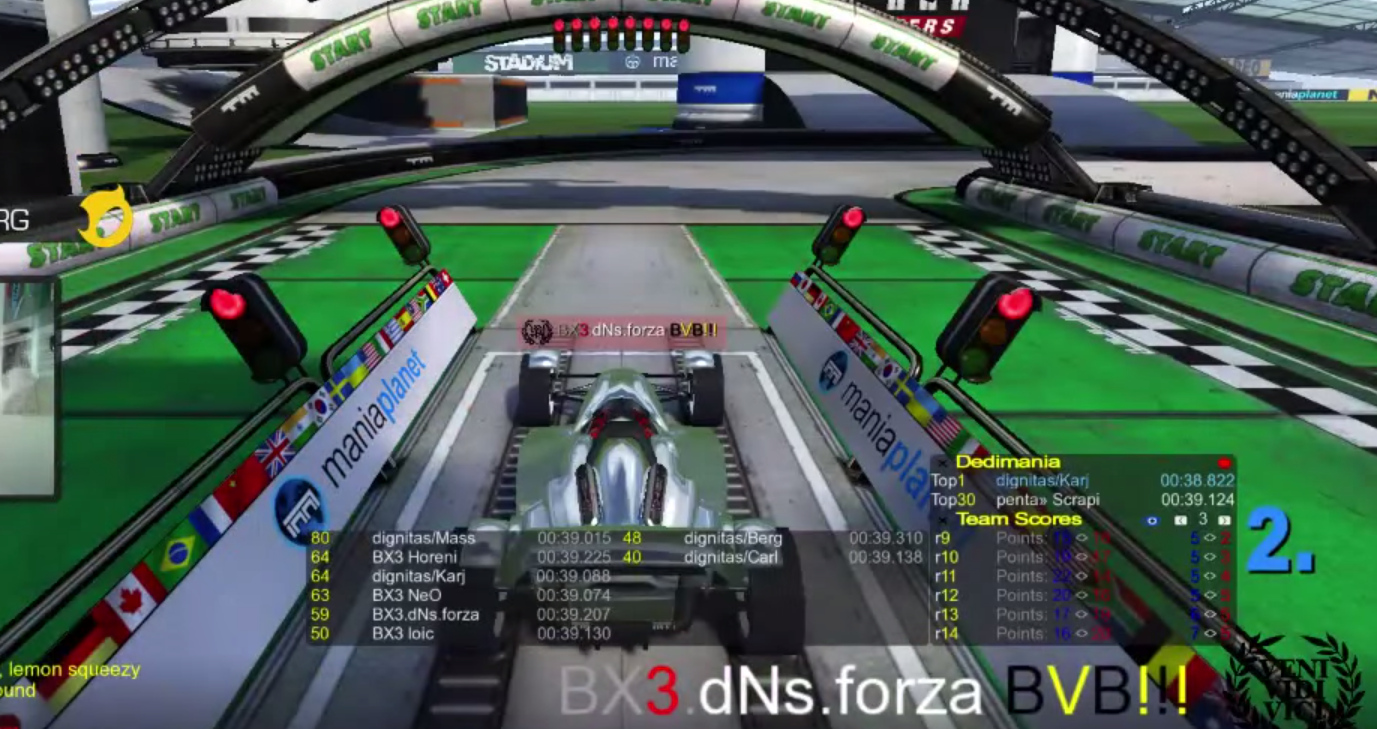 Løtze tops the scoreboard against BX3 in TMM. Image: Leo Falcomer-Dawson.
While the TMM playoffs were taking place, the tournament's organisers also hosted two True Talent Cup (TTC), one of which Løtze won. In November, Løtze won his second TTC of the year, joining a group of four other players who had won the competition twice or more by that point, and was rewarded with a t-shirt prize.
CPS13, which spanned from mid-May to early July, saw the kind all or nothing, risky driving that we have come to expect from Løtze, especially in the group stage. In Team Dignitas' match versus Against All Authority, Løtze was the player that ensured a clean 5-1 victory for his team in the 2v2 sub match, winning four out of the eight rounds he and Bergmann required to defeat

Yoann "YoYo" Cook and

Anthony "Papou" Paul. However, his driving style was much less effective in the three-on-three, leaving

Carl-Antoni "Carl Jr." Cloutier and Lunenburg the task of winning rounds. The five versus five was fairly one-sided, Dignitas swiftly dealing with their opponents, with Løtze scoring averagely despite driving a new personal best in the match (+0.03 to the rounds dedimania 1 record).
The other group stage matches almost mirrored this one in terms of Løtze's play style, and his success with it. In perhaps the most important match of the group stage for Team Dignitas—the clash with Team Acer—Løtze lost the 1v1 to a superior

Michael "PokeR" Neuhold, and was unimpressive in the 3v3 and 5v5 submatches. Nevertheless, Team Dignitas secured a draw in the match, and in doing so took first place in the group stage, advancing directly to the grand final. In the grand final itself, another match-up between Team Dignitas and Team Acer, Løtze concluded his mild ESL season with poor efforts in the 2v2 and 3v3 submatches, and decent regular and decider five versus five submatch results. Overall, a rather unexceptional Competition Premiership Season for Løtze.
It was during the second half of the year that we saw the best from Løtze. As far as individual events go, there is a lot to discuss, starting with the summer's solo cup events. In June, he took second in myR Cup 2, behind teammate Lunenberg and ahead of

Ördög "Royal" Botond and

Benjamin "Kronos" Suzenne. In September, Løtze looked to reach the final of another large solo cup, this time Stadium Giant Cup 1, the first edition of the prestigious tournament to be played in TrackMania²: Stadium. In the consolidation final, Bergmann and Løtze edged ahead and occupied first and second in score after the first map, and were both setting fast times. However, after a pause in which

Dennis "Scrapie" Heinen restarted his game, and asked for a round to be stopped after it had started, Løtze began to "tilt", and he was quickly out of contention to go through to the final.
2014 saw Løtze attend his first TrackMania LAN. Paris Games Week's Electronic Sports World Cup, held at the start of November, saw 30 of the best TrackMania players battle it out in attempt to claim the title of world number one. Løtze took joint ninth in the competition along with

Koen "Koenz" Schobbers, a great achievement given his lack of offline experience.
Løtze, who is known for setting fast personal bests, was seeded sixth following the Time Attack qualifications. Despite this, his first group saw him up against two former world champions in Bergmann and

Erik "hakkiJunior" Leštach, and promising newcomer

Oliver "Oli" Schafroth. After a great first map, Løtze began to lose his small lead in points to Bergmann and Leštach. The two more seasoned players reached finalist mode first, and both were able to keep their cool and progress to the second round of the winners bracket despite Løtze's best attempts to deny them the opportunity to do so.
Løtze wasn't done yet, however. He soared through the first losers bracket stage, knocking

Kasperi "klovni" Aaltonen and

Joachim "xxRider" Andersen out of the tournament. Perhaps given a confidence boost by this win, Løtze went undefeated for the remainder of the day's matches. In the second round of the losers bracket, he reached finalist mode eighteen points clear of Heinen in second, and managed to convert it into a win on his first try. The last match of the day was almost a rematch of Løtze's first match, although this time

Leo "Leo" Falcomer-Dawson replaced Schafroth as the fourth player. As before, Bergmann played well, and this time was the first to reach finalist mode. However, Løtze was able to outpace Bergmann after this and win two close rounds to reach finalist mode himself and then win the match.
The next day's games were all, besides one losers bracket semi-final, hosted on the Numericable Stage. Most players are nervous when playing in front of crowds, and Løtze was thrown into the deep end for his losers bracket semi-final, with all but a few fans cheering on his three French opponents

Yoann "YoYo" Cook,

Titouan "OmnipotZ" Le Maner, and

Benjamin "Kronos" Suzenne. Løtze certainly looked less confident than the others on stage, and couldn't muster the sort of match times needed to progress in the tournament. He took a respectable ninth overall after finishing third in his final match.
The last of Løtze's individual efforts came in December. ESL, with a running "Road to Gamers Assembly" theme, began hosting Go4TM cups at the end of 2014, and Løtze participated in all four editions hosted in December. The German went out early to

Dylan "Zack" Delhaye and Bergmann in the first cup, but he took second in the next cup, and also made the podium in the last of the month's cups, taking third behind

Marek "
tween
" Pacher and

Andy "Sabre" Wilson. Solid results when you consider the sheer number of skilled players that entered the December Go4 tournaments.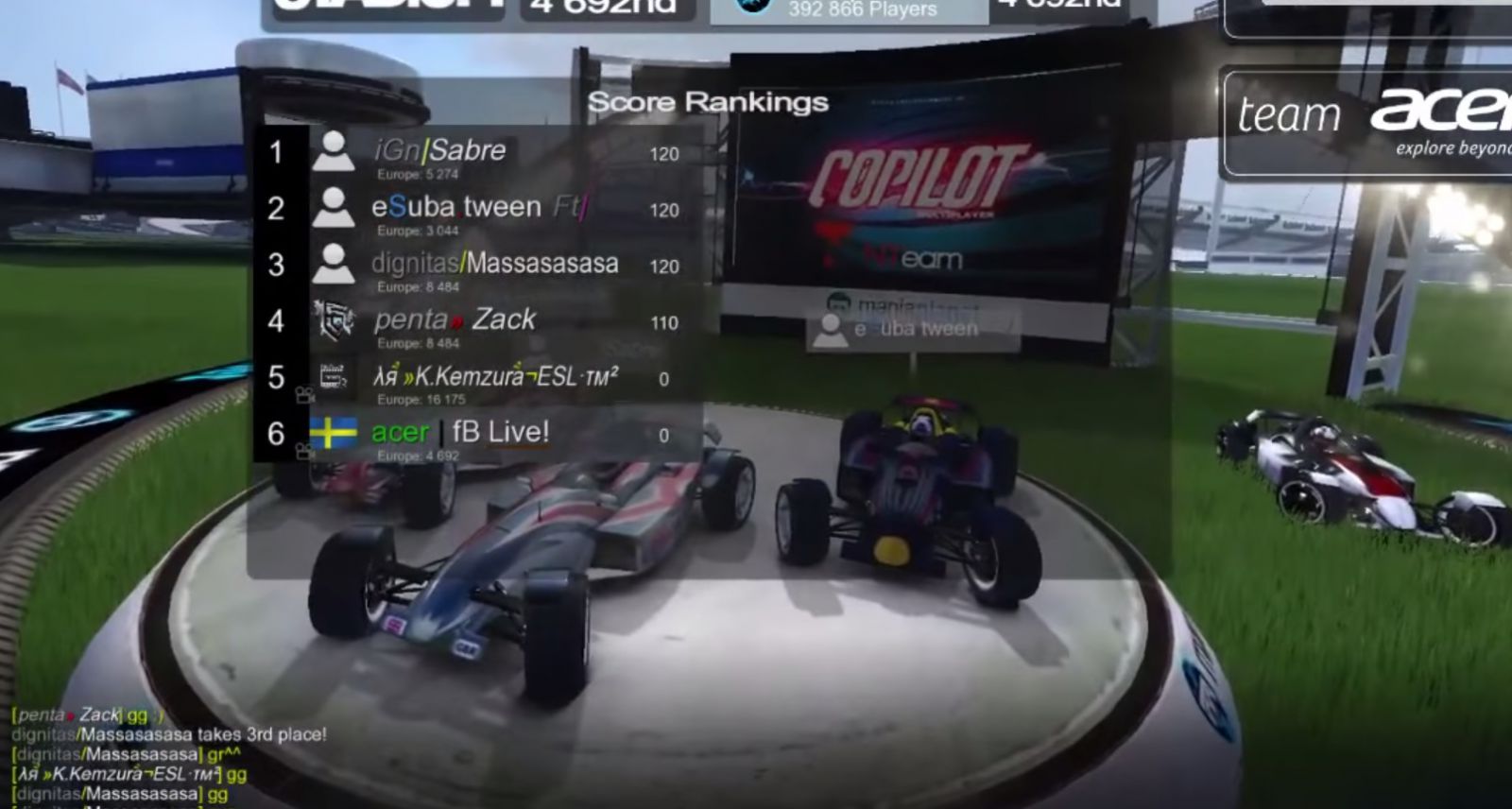 Third in the fourth Go4TM Cup by. Picture: Leo Falcomer-Dawson
Throughout the second half of the year, Løtze also played in team competitions with Team Dignitas. Stadium Team Championship 10 was the next major tournament after CPS13, and Team Dignitas endeavoured to complete a hat-trick of team titles by taking first in it. The group stage was, as many would expect, a breeze for Team Dignitas.
In their first playoffs match, the Dignitas players were tested by Polish squad MaDrivers, but Løtze and his team mates simply outpaced them to take the match with a two-zero score. In his next, quarter-final match against Easykiller (eK), Løtze impressively topped the scoreboard on the first map, much further ahead points-wise than everybody but

Andy "TripleX" Ko. His consistency dipped on the second map; although he did impressively drive a new world record in the match itself, all of his teammates finished at least ten points clear of Løtze on the scoreboard. Penta Sports posed a much larger threat to Team Dignitas' title hopes in the semi-final, taking the first map in the BO3 series. Løtze, who played well on the first map despite his team's narrow defeat, continued to play well on the second map, and was the only player to amass more than eighty points over the twelve rounds played in the submatch.
The grand final again saw Løtze on-point. He was the second best for Team Dignitas on the first map and best on the second map, but Løtze couldn't do enough to stop Team Acer from winning both submatches and taking the title. On the first map, when Løtze needed to step it up the most to carry his teammates, he was unable to do so (three Team Acer players finished higher than him on the scoreboard).
A week before the STC grand final, the Nations Cup 9 grand final took place. Germany and France, the only two teams with full rosters of active, top-tier players, were set to compete to crown a winning country. Løtze was Germany's captain, and after playing exceptionally well in the competition up until the final, hoped to do the same and lead Germany to their first ever Nations Cup title. Løtze was certainly one of the best of all the players who raced in the final, achieving only a few points less than the points leaders on both maps played. France took it 2-0, but not down to any fault of Løtze.
Finally, we will look at Team Dignitas' CPS14 group-stage matches from December.

Tim "Spam" Lunenburg and Løtze worked well together to win 2v2 submatches against Very Short Players, Against All Authority and Penta Sports convincingly, with Løtze being the better of the two Dignitas players overall. Barring three versus three and five versus five submatches against Penta on the third playday, Løtze was good in all the ESL CPS matches he played in the final month of the year, playing much better than he had at the start of the summer's ESL season.

Dennis "Massa" Løtze's driving style is a risky one; he will either set impressive times, or crash and finish behind the opposition. This is reflected in his results, as we observe both occasions when the German excelled and disappointed in matches throughout 2014. However, he did much more of the former, attaining a list of high-profile results in both solo and team competitions, and thus we feel that he has earned the number six spot on our list of the top twenty TrackMania²: Stadium tech drivers of 2014.
Video: ESWC LB round 2. Casted by : Kalle "frostBeule" Videkull.