14 Mar

Top 20 of 2014: YoYo (8)
Written by leo in Community / Trackmania² Stadium

This is the thirteenth article about the top twenty TrackMania²: Stadium tech drivers of 2014. For more information, see
the first post
.
YoYo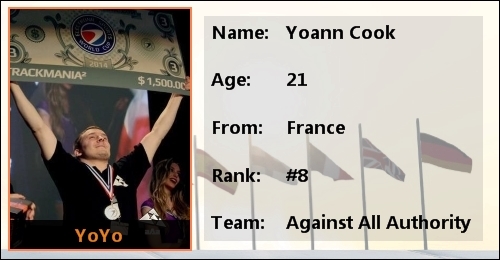 Eighth on our list is the one and only

Yoann "YoYo" Cook. A veteran of TrackMania, Cook is well-established as an explosive player who particularly excels in high-pressure LAN environments. This is exactly the side of him that we saw most of in twenty fourteen. A third-place finish at Electronic Sports World Cup was surely Cook's crowning achievement last year, but he also played in a variety of online competitions (although with mixed levels of success).
Cook participated in the TrackMania Masters Team Cup 2014 with 3DMAX! starting in February, but played few games with his team. The French side's first real test of the competition came in the form of a round of sixteen match against A New Era (ANE). After a lacklustre performance by Cook on the first map, which 3DMAX! lost, his team mates took over and won the remaining two submatches. For the remainder of the cup, Cook sat out, and his team mates took third after losing to Druidz in the semi-final and then to Team Acer in the consolation final.
Perhaps the reason for Cook's TMM inactivity, especially towards the end of the competition, was that he was focussing his efforts on training for the Gamers Assembly TrackMania LAN event. On April nineteenth, players from around Europe descended on Poitiers, France, to compete in the second-largest annual TrackMania offline event. After a relatively easy match in the first round of the winners bracket, Cook took second behind

Marek "tween" Pacher, beating fellow countrymen

Nicolas "
Snaky
" Genet and

"Lemon" to advance to the winners bracket's third round. Cook, up against opponents

Benjamin "Kronos" Suzenne,

Erik "
hakkiJunior
" Leštach and

Côme "Cocow" Marquet, stumbled and was knocked to the losers bracket with Marquet.
Now Cook would face elimination if he placed third or fourth in any of the day's remaining matches. Under this sort of pressure, Cook is known to bring his a-game, and this time was no different. He won his next two matches, eliminating known French players

Ludovic "ludo" Marquet and Gusse on his way to the consolation final. There, he would have to defeat two of

Laouenan "
zo0m
" Le Corguillé, Suzenne and

Florian "
aswer
" Domitile if he was to join the eSuba players Pacher and
Leštach
in the grand final. Despite Cook's best efforts, both him and Domitile were unable to reach the tournament's final match, with Cook taking third in the consolidation final and thus placing fifth overall in the tournament. This result surprised some, as the experienced Cook was for many a favourite to make the podium.
Cook, while a veteran of the scene and its many regular competitions, has shown few top level performances online in recent years. Competition Premiership Season 13, played from mid-May to early July, did not see him performing significantly well. His team, against All authority, placed fifth in the group stage, and thus did not make it to the playoffs. If we examine some of aAa's toughest games over the group stage, we see that Cook was not the star "carry" player the team may have needed. Versus BX3, Cook played the 3v3 and 5v5 submatches, with only decent, mid-points-table results. Much the same can be said about Cook's driving in the match against Team Dignitas on the last play day. Although he was great in the 3v3 submatch against Team Acer, he was aAa's worst player in the 5v5. While his CPS13 was not all bad—he did, for example, play great during his team's 4-2 win against Penta Sports, defeating Renew in the 1v1 and being among the top two aAa players in the 3v3 and 5v5 submatches—it certainly was not a highlight of Cook's year.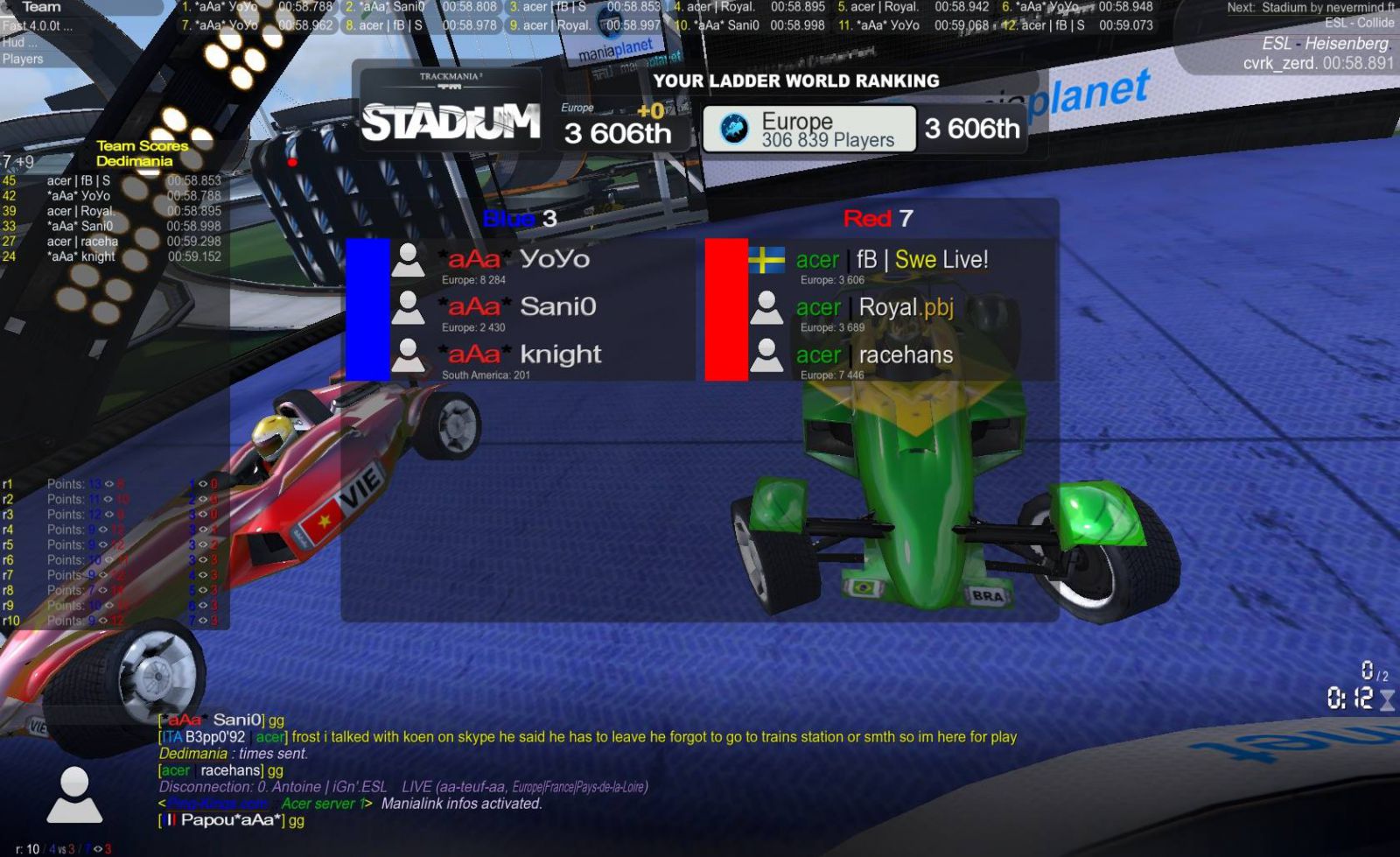 Cook plays with aAa against Acer. Picture: Kalle "frostBeule" Videkull.
Over the remaining five and a half months of twenty fourteen, Cook participated mainly in solo tournaments, and showed us what he is capable of when properly prepared and focused. August's THC Solo Cup 3 saw Cook reach his first grand final of the year. After progressing through the long playoff tree, he faced off against

Benjamin "
Kronos
" Suzenne,

Tobias "shorty" Rouschal and

Fabian "beat" Kuehn. The match, played on a single, 45 seconds long map, was extremely close, and before a winner was crowned, Cook, Kuehn and Suzenne were all finalists. However, in the crucial final rounds, Cook couldn't do enough to take a podium spot. Kuehn took second behind Suzenne, and then Rouschal, who had reached finalist mode by then, was faster than Cook in the final round to take third.
As mentioned earlier, Cook is a formidable offline player, so it is fitting that by far his biggest accomplishment of 2014 was his third-place finish at Electronic Sports World Cup. Unlike the main cohort of French players, Cook was given a direct pass to the main event, likely down to his previous accomplishments at the event (he took third in both 2010 and 2011).
After a solid eighth place in the Time Attack seeding, Cook was put against the relatively inexperienced Penta Sports players

Dennis "
Scrapie
" Heinen and

Mikael "
MiQuatro
" Jäppilä, as well as Canadian

Philippe "wally" Trudeau. Being the more complete player, Cook took first place, with young Belgian Heinen securing second. In Cook's second winners bracket match, it was again the most LAN-savvy players that succeeded;

Carl-Antoni "Carl Jr." Cloutier and Cook were able to overcome the threat posed by

Tituoan "OmnipotZ" Le Maner and

Pascal "DeviL" Albusberger.
Cook would need to give his all to place first or second in his next match and reach the winners bracket final.

Tim "Spam" Lunenburg,

Marek "tween" Pacher and

Robert "Tamarillo" Crone, all ESWC veterans, gave Cook his toughest match of the day, and it was then that Cook's winners bracket progression was halted.
Although he was down in the losers bracket, the Frenchman was definitely not out. An emotional, "all or nothing" player, Cook can quite easily beat even the toughest opponents when he has momentum behind him. He got the boost he needed from the sizeable crowd that was there to watch the on-stage games, and it was this that helped him to overcome the threat of fellow countryman Suzenne and

Dennis "Massa" Løtze. After a wait of three hours, the losers bracket final was played. Once again, Crone and Le Maner would join Cook, but

Fredrik "Bergie" Bergmann, who had looked dangerous through the tournament, was also there to attempt to reach the consolidation final. From the get-go, Bergmann and Cook were dictating the pace of the match. The final map, "ESWC 2014 - Kaksseiskatseta", saw the two of them battle it out for first place in the match. A crucial round saw Bergmann reach finalist mode and Cook miss the finish, a mistake that cost him reaching finalist mode as well. However, he did reach finalist mode a couple of rounds later, and after a clutch round where he overtook Le Maner in the last few turns, Cook took second in the match and proceeded to the consolidation final.
If you had to sum up the consolidation final in two words, they would surely be "allez YoYo". Cook likes to takes risks, and on that occasion it paid off better than even Cook himself could have hoped. The third map, Kaksseiskatseta, saw Pacher win a number of great rounds, and managed to break away from the rest of the players points-wise. The map then switched to "ESWC 2014 - Bootshaus", and Cook made an incredible comeback. Winning four of the five rounds on the map, Cook he denied Pacher, the favourite to challenge Cloutier for the title, first place, and took it himself.
It was clear that Cook would not be satisfied with a fourth place finish in the grand final. He meant business, and would no doubt hope to continue his hot streak, this time against Cloutier, Pacher and Lunenburg. However, the first map couldn't have gone much worse for Cook, who gathered only 17 points over five rounds. The second map was much better for him—he even set a personal best time in one round, denying Cloutier a round win—but he still had the least points of the four players in the final. Lunenburg and Cook looked a level below Pacher and Cloutier for the first half of the match, but after Cloutier secured a win and took the title, Cook especially started to stage a comeback. It was not out of the question that Cook could take the silver medal, especially since the final map was Bootshaus, the one he performed so well on in the previous match. However, Pacher went on to take second instead, and Cook, then finalist, needed just two rounds to take third in front of Dignitas player Lunenburg. Yet again, Cook showed that he thrives off pressure and has all the skills required to challenge the best on LAN.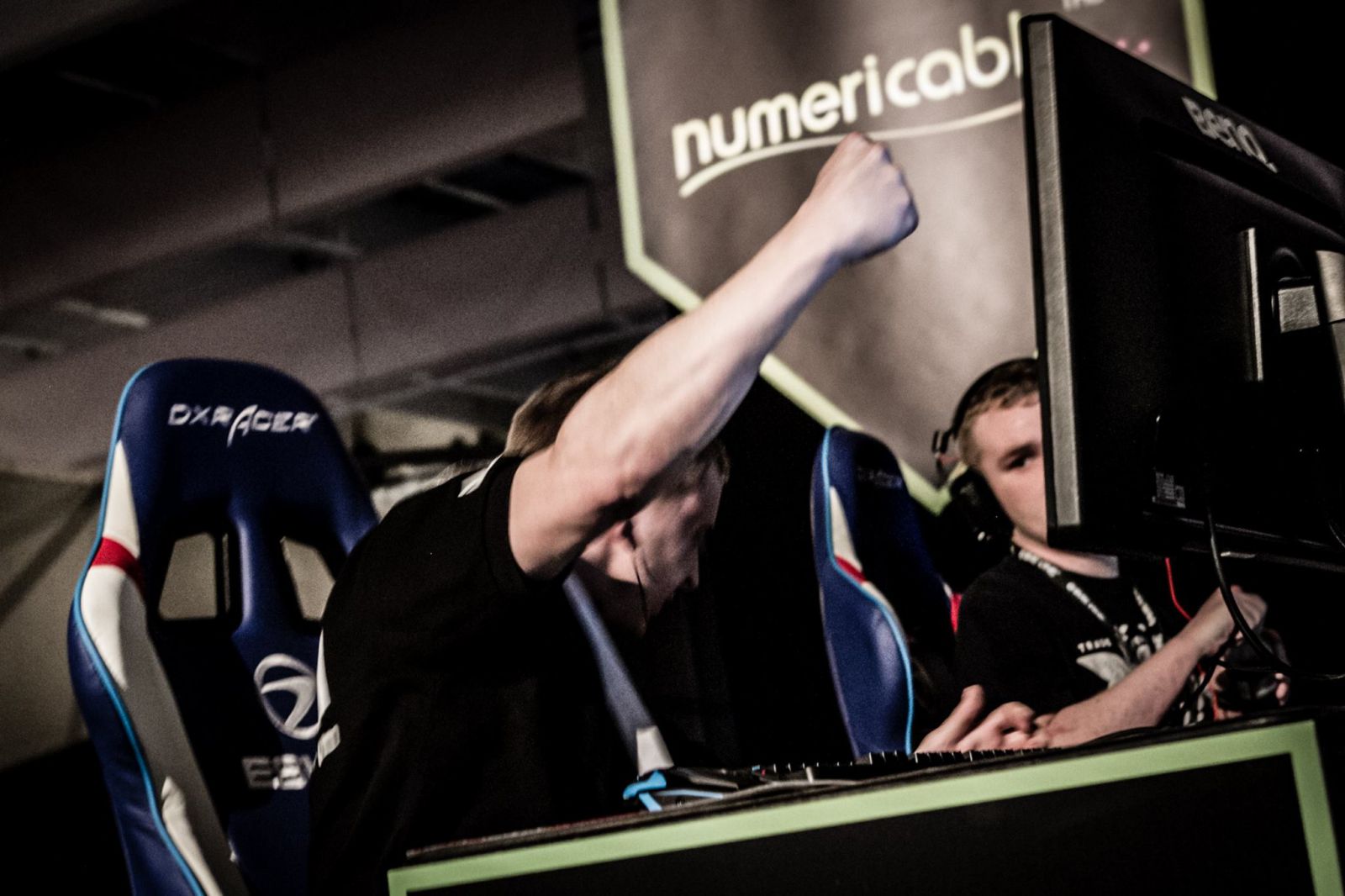 Cook wins a round at ESWC. Picture: ESWC.
Cook's year did not end after ESWC finished in early November. In December, he played three CPS14 group stage matches. As per usual, he did not carry his team, but he rarely let them down, scoring in the middle of the points table on average in matches versus BX3, Funteam and Team Dignitas.
If we take team and individual, and online and offline results into consideration, there are clearly more well-rounded players than

Yoann "YoYo" Cook. However, there are few who compare to him when it comes to playing on LAN or under pressure, as shown by his third place Electronic Sports World Cup result. He thoroughly deserves the eighth spot on our list.
ESWC 2014 Consolidation Final. Video: Kalle "frostBeule" Videkull