16 Mar

Top 20 of 2014: PokeR (7)
Written by wormi in Community / Trackmania² Stadium

This is the fourteenth in a series of articles revealing the top twenty TrackMania²: Stadium tech drivers of 2014. For more information, see the first post.
PokeR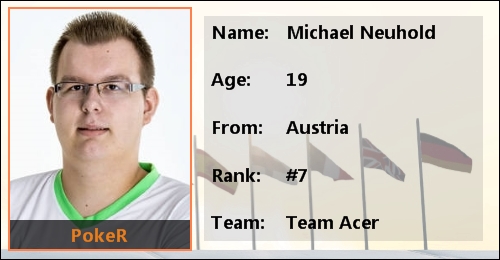 Number seven of the best players of 2014 ranking is given to

Michael "PokeR" Neuhold. Even though he didn't drive a single 'major' solo tournament during the year, nor visited any LAN events, we rank him this high thanks to his magnificent performances for Team Acer in online leagues.
In January, ESL CPS12 continued with playoffs after the holiday break. In the semi-final, in which Team Acer played against BX3 for a final spot in the grand final, Neuhold started the match playing the
one-on-one submatch against

Fabian "
beat
" Kuehn. Unlike most people excepted, after tight rounds it was Kuehn who beat the Austrian, with a rather impressive 7-2 score. Neuhold, undeterred by this and playing submatch by submatch, topped the points, tied with

Dennis "
dNs
" Latz, in the three versus three, but Acer lost the submatch anyway. At that point, they had to win the 5v5 map to keep their dream of a final spot alive.
Thanks to Neuhold, who again gained the most points and won the deciding last round, and

Kalle "frostBeule" Videkull, they managed to win it, and the match was continued on to a decider submatch. The decider was really tight, but as Neuhold drove really well, collecting 107 points (meaning he took as much as 7.6 points per round) and Videkull scored the second most points again, Team Acer managed to win the map 8-6, and continued to the grand final.
The final was played against Team Dignitas, the long-time rival of Team Acer. Neuhold went on track for the two versus two submatch with

Ördög "
Royal
" Botond. He played well as always, securing many important tie rounds when Botond wasn't able to beat the Dignitas duo

Fredrik "Bergie" Bergmann and

Jesper "
KarjeN
" Karjalainen. After all, Neuhold took the most points, twice as much as Botond, but Dignitas won the submatch. Neuhold also played the three-on-three, but despite him again being the best player on his team, all three Dignitas players were clearly better, and thus Acer took second in the CPS12 playoffs.
Soon after CPS12 it was time for TrackMania Masters Team Cup of 2014. Neuhold played a solid group stage, mostly being the best or the second best player of the team, while Acer steamrolled to the playoffs. Their first playoffs opponent was eSuba, and Acer won the match against them with a straight 2-0. The second map was tight, ending just 8-6 for Acer, but Neuhold was the only player reaching more than 100 points, and he was the key factor that caused Team Acer to win the map, soaring above eSuba's

Martin "
Kappa
" Krompolc, who also had a great match.
The next team Team Acer faced, Very Short Players or "vsp" , caused few problems for Team Acer. Captain Videkull played really well over both maps in the round of sixteen match, meaning Neuhold was not under pressure to top the scoreboard. The Acer players' next opponents, the newly-sponsored Penta Sports players, provided slightly more of a challenge for the CPS12 runners-up. The in-form Videkull once again dominated the scoreboard, but Neuhold was Acer's second best, three points clear of

Koen "
Koenz
" Schobbers and just one behind Penta's highest-scoring player — Marcel "JoDooky" Hübne — on the Neuhold played.
Next up, Neuhold and his team mates faced Team Dignitas, a match-up they were surely hoping to avoid until the grand final of the competition. On the first map, Neuhold played well, and yet again was his team's best player after averaging five points per round for sixteen rounds. His efforts were in vain, however, since Dignitas superstar

Carl-Antoni "
Carl Jr.
" Cloutier was on fire, gathering eighteen more points than Neuhold over the course of the first submatch, and securing the map for Digntias 8-6. Acer fell with less resistance on the second map. Although no Team Acer player played particularly badly, they faced an awesome pair of opponents in Cloutier and Karjalainen, and together they made the Dignitas squad unbeatable.

Poker, despite playing well, is unable to bring his team victory in the TMM semi-final. Image: Kalle "frostBeule" Videkull
Team Acer were still able to take something meaningful away from the tournament if they won the third-place match against 3DMAX. Neuhold, who played just the first map, took 10 points more than the next best player, and led his team mates to a decisive 7-1 victory. He then spectated the second map, and watched his teammates take third place in the tournament after winning in an equally dominant fashion. We can see that Neuhold played at least one map in all of Team Acer's important games throughout TMM 2014, and was always a player his teammates could count on to do well.
As we have had come to expect, Neuhold skipped the solo events during the summer, but played in CPS13 with his team. After missing the first two group stage matches, Neuhold returned fully prepared for Team Acer's important match against BX3. Neuhold won the 1v1, defeating Latz, and also importantly took the most points in the three versus three submatch to ensure that Acer took it 8-6. In fact, Team Acer lost their only two submatch points in the 5v5 submatch, on the only map Neuhold did not play. The three weeks saw teams play on a fresh set of maps, but little changed in the way of Neuhold's game impact. Over the next three matches, Neuhold won both 1v1 submatches he played (including a win against

Dennis "
Massa
" L
ø
tze from Team Dignitas), and on all occasions but one scored second or first best in each of the team-based submatches he played.
Coming into the playoffs as group stage runners-up, Team Acer got to advance directly to the semi-finals where they faced BX3. As per usual, Neuhold played the the one-on-one challenge, this time facing up against

Jakub "Horeni"
Hořejší. The first few rounds went back and forth between the two competitors, but Neuhold was able to step up his game and drive times the Czech simply could not match, eventually winning 7-3.
Next up for Neuhold was three-on-three submatch, in which he was the decisive player that Team Acer needed in order to win the match. At the start of the match, he won many important rounds that gave Team Acer a small lead over their opponents. However, the BX3 players then stepped it up, winning some cruicial, close rounds to reach match point at 6-4. It was then that Neuhold's speed and consistency paid dividends; the Austrian went four rounds without mistakes, even setting an incredibly fast time in the last round, and saw that the opposing team finished the ESL season in third place.
Since Team Acer won the semi-final match, they did of course play in the grand final, this time another "El Clásico" match-up against Team Dignitas. Like the semi-final before it, the grand final began with a 1v1 submatch, where Neuhold faced Cloutier.. A couple of mistakes by the Canadian allowed Neuhold take 2-0 a lead, he lost his lead after Cloutier won many close rounds. After that, Neuhold started to make mistakes when driving a particular turn of the map, allowing Cloutier to quite easily reach map point. However, Neuhold didn't give up, managing to bring the score back to 6-5. In the following round, Cloutier made a small mistake, and it seemed like Neuhold was going to force tennis mode. However, he chose to take a risky line in the last turn which ended up forcing a crash, allowing Cloutier to take first in the round and take the submatch for Team Dignitas.
Neuhold was given the chance at redemption in the three versus three submatch. Along with

Kalle "frostBeule" Videkull and

Ördög "
Royal
" Botond, he took the submatch, and gave Team Acer a 3-1 lead in the overall submatch score standings.
A win in the 5v5 would have given Team Acer the win, but they were unable to close the match out there. Neuhold led his squad and set the pace, but since Dignitas'

Henri "
Insane
" Kyynäräinen was equally quick, and some of Neuhold's teammates played disappointingly, the match was really close. Team Dignitas clinched it 9-7, forcing a decider map. Perhaps put off after his 1v1 performance on the map, Neuhold did not take up a carrying role during the decider, scoring fourth highest and allowing Team Dignitas to take it 7-5. Despite a shaky final for the Austrian, he certainly played a vital part in securing Team Acer second place in CPS13.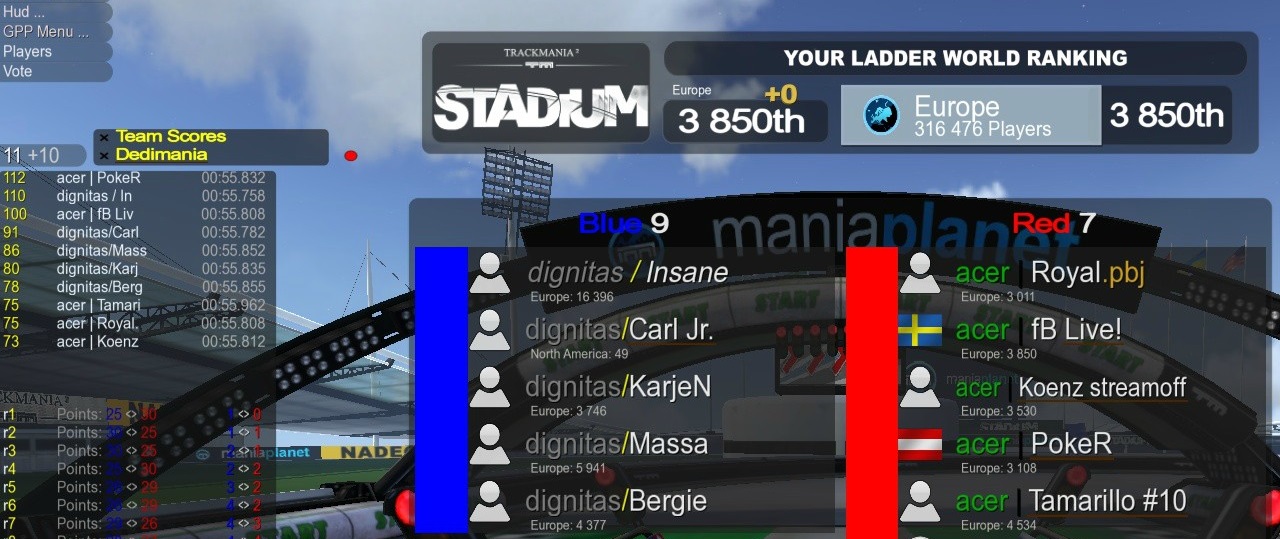 Neuhold sets the pace in the CPS13 grand final regular 5v5. Picture: Kalle "frostBeule" Videkull.
In September and November, we saw great things from "PokeR" in Stadium Team Championship 10 or "STC10". Since Team Acer had relatively little trouble advancing from their group, it seems appropriate to focus on Neuhold's playoffs performance.
The first couple of playoff matches were quite one-sided, and saw Team Acer knock out iGn-eSports and Funteam. Over the course of the matches, Neuhold was more quiet than usual, drifting between second and third place in the overall score standings in each of the three maps he played. The semi-finals were not much different. Very Short Players, missing their star player

Sander "
Sandder
" Kuusik, were undone by the strong Acer side, with Neuhold again not needing to do anything particularly strenuous in order to bring his side victory.
The final STC hurdle was the hardest one for Team Acer. Once again, Team Dignitas lay between them and a tournament title. Captain Videkull had announced his retirement from competitive driving after this match, and Neuhold and his teammates were determined to honour him with a victory in their final match together. The first map "STC10/NC9 - Comeback" was really tight: the scores were first tied up at 3-3, and later at 6-6, with both teams having match point (STC doesn't have tennis mode).
Acer managed to close the map by winning the last decisive round, and they went to the second map with a 1-0 lead.
Neuhold drove faboluously and was the MVP of the map, just ahead

Tim "
Spam
" Lunenburg.
The second map had numerous tight rounds as well. Acer's

Koen "
Koenz
" Schobbers was the most influential player, but Neuhold and other Acer players were right behind him while some of the Team Dignitas players made mistakes. Team Acer won the map 7-3 and took their first STC title. Although Neuhold did not put out as many crazy, match-winning performances as in the year's previous tournaments, he never particularly faltered in the STC matches he did play.
In December, a new ESL Competition Premiership Season started, now the organisation's fourteenth edition of the popular tournament. Team Acer, seemingly suffering from a lack of motivation and feeling the impact of losing the reliability of their captain, only managed to take one point from their first three group stage matches. Neuhold was Team Acer's only hope during this period, and was the best player for his squad in seven of the eight submatches he played in December, including 1v1 matches against

Dylan "
Zack
" Delhaye and "weap". One of his only bad showings from the entire year came just before the Christmas holiday period, when he took just twenty three points from 10 rounds in the 3v3 against vsp. Despite this, it is unreasonable to suggest, since he played so well in the rest of his CPS14 submatches in 2014, that he in any way was responsible for Team Acer's slump.
As we mentioned before, Neuhold was not hugely into driving without the backing of his teammates in 2014. He has, however, played in a number of True Talent Cups, hosted by TrackMania Masters in Nations Forever, winning the first of many in November 2014 ahead of

Andy "Sabre" Wilson and Pacher - the latter of which won the previous edition.
Despite the fact that Team Acer won only one major title during the year,

Michael "
PokeR
" Neuhold was always one of the most important players. Even on off-days, he was still good, and turned numerous rounds for the favor of his team, and was especially important in securing Acer 1v1 submatch wins in ESL leagues. However, the lack of offline achievements and solo performances, where the pressure is often higher than in team tournaments, and a slightly different set of skills is tested, stop Neuhold from being placed higher in our list. All in all, he comfortably takes seventh place on our list.
Video: CPS13 semi-final. Casted by : Kalle "frostBeule" Videkull.