10 Mar

Top 20 of 2014: OmnipotZ (10)
Written by wormi in Community / Trackmania² Stadium

This is the eleventh in a series of articles revealing the top twenty TrackMania²: Stadium tech drivers of 2014. For a bit more information, see the first post.
OmnipotZ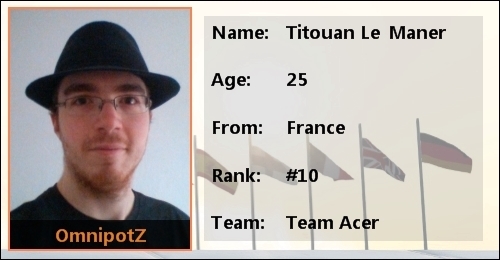 In the tenth place of the list we have

Titouan "
OmnipotZ
" Le Maner, formerly known as "EpiK". He is an experienced, all-round player with great results from both tech and dirt competitions over the years. After a hiatus, he started to compete again in 2014, playing many editions of fB's Weekly Race. He did very well in them, and soon started to enter other competitions as well.
Le Maner returned as he left: a member of team Fureur. Later on, however, he would join Team Acer in search of a more active group of players to compete with.
Le Maner's first major tech event after his return was the myRevenge Cup 3, in which he made it to the grand final.

Ördög "Royal" Botond won the event, but Le Maner got the finalist status second. A couple of rounds later, he finally managed to win a round by beating

Michal "
Flyer
" Vo with four thousands of a second, taking the second place.
It was not long until Le Maner competed again. The THC Solo Cup 3, played out from the eighth to the tenth of August, was perhaps the most competitive edition of the popular cup series yet. Le Maner relished the challenge, and many tipped him to do well in it. After reaching the quaterfinals of the cup, he was knocked out by Botond and

Mikael "MiQuatro" Jäppilä in a swift fashion. This was surely a disappointing result for the Frenchman.
Because Le Maner's comeback was so late in the year, he was unable to play in Competition Premiership Season 13 with his Fureur teams. His first taste of team-based competition thus came in the form of the TmT Multilaps event which started a week after THC Solo Cup 3's conclusion. 'f(x)', a team comprised of Le Maner and

Romain "Roa" Aillet, made it to the semi-final stage of the contest. There, they met arguably their strongest opposition yet in

Marek "tween" Pacher and

Jakub "
kubayz
" Faul. On the first map it was really tight between the two teams for some time, but after numerous draw rounds, eSuba took the map 5-1. A determined Le Maner dominated the second map, taking almost 10 points more than next player, Pacher. He again topped the scoreboard on the third map, but Aillet couldn't do enough to stop Pacher and Faul taking a win, meaning that the French duo were knocked out of the competition joint third.
After a brief stint in the imL cup which started in September, Fureur became largely inactive, leading Le Maner to join Team Acer as a guest driver for Stadium Team Championship 10 (he would later become a full-time member). However, Le Maner would represent Fureur at his most important event in 2014: Electronic Sports World Cup. One day before the main TrackMania event started, Le Maner and seven other French invitees played in ESWC France, a seperate competition that also acted as a qualifier for the international event. Le Maner took second in the Time Attack seeding behind one of the favourites to take one of the two main-event spots,

Benjamin "
Kronos
" Suzenne.
After taking one of the top two spots in his first winners bracket, match Le Maner proceeded to the winners bracket final. There he met and drove against Suzenne
,

Florian "
aswer
" Domitile and 2006
ESWC champion

Dorian "Carl" Vallet
. Le Maner reached finalist mode first, but a comeback from Suzenne stopped him from closing out the match on his first few tries. After a brief struggle, Le Maner eventually took first place in the match on "ESWC 2014 - Aperiko", a duo-map by him and Aillet, while him and Suzenne were both finalists. Suzenne took second, and also proceeded to the ESWC France grand final.
Vallet and Domitile made it to the French final via the consodilation final, and the four players got to play for the championship title and two spots for the international event. This time, Suzenne was dominant in the start, but began losing his lead when Vallet and later also Le Maner began to step it up. At one point, all players except Domitile were within five points of one another, with the three top scorers all having more than 110 points, veteran Vallet in the lead. Suzenne, Le Maner and Vallet finished the map they were playing as finalists, and the title could have been taken by any one of them. Suzenne manages to win a round taking the championship and the first spot for the event, and two rounds later Le Maner also wins a round, securing the second place and making it clear that he is going to do his best the next day.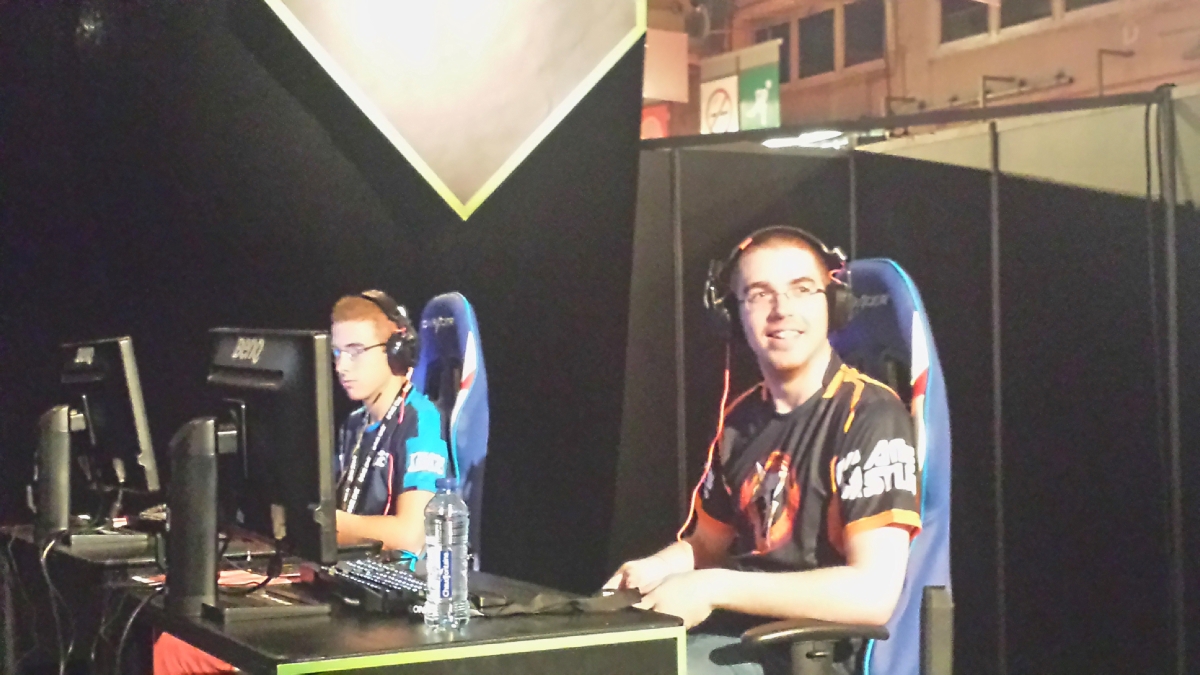 Le Maner on stage during the French final. Picture: Ilkka "wormi" Päkkönen
After an evening of celebration, a day of tough racing lay ahead of Le Maner. Thanks to Time Attack qualifications, both Le Maner as twelth best and Suzenne as fifth happened to be placed in the same group for the first round. They were seeded to play against

Kasperi "
klovni
" Aaltonen and

Jakub "
kubayz
" Faul. The Finn Aaltonen made it somewhat close, but both French players continued in the winners bracket being top two of this match.
In the next match Le Maner would again face a fellow countryman. This time, it was

Yoann "YoYo" Cook, a two-time ESWC bronze medalist. His other two opponents defending champion

Carl-Antoni "
Carl Jr.
" Cloutier and

Pascal "
DeviL
" Albusberger. Cloutier expectedly won the match in a convincing fashion, and an in-form Cook's impressive driving meant that Le Maner was sent to the losers bracket.
His first losers bracket match saw him play against Faul,

Dennis "Scrapie" Heinen and

Dennis "
Massa
" L
ø
tze. Heinen had a great start, but after getting warm, L
ø
tze won in a dominant fashion. Le Maner, who was at one point in last place, found himself in finalist mode along with Scrapie. When the both of them were finalists, the Frenchman managed to edge a few hundreds ahead of his opponent during the mid section of the map. He maintained his lead until the end of the track, and thus advanced to the third losers bracket round.
Le Maner's final match of the day went equally well; he took second place behind

Peter "znik" Skarstein, eliminating

Dennis "dNs" Latz and

Pascal "
DeviL
" Albusberger from the tournament.
The next morning, Le Maner headed straight to the Numericable stage for the losers bracket semi-final. Facing familiar-opponents
L
ø
tze, Suzenne and Cook, he was not an obvious favourite, although few doubtes his abilities. Cook took first place, much to the excitement of the crowd. Le Maner kept calm despite the presence of a sizable crowd, and drove his way to second place. In the losers bracket final, Le Maner would once again
play against Cook, who was joined by

Fredrik "
Bergie
" Bergmann and

Robert "
Tamarillo
" Crone. Starting off badly and having the least points after the first map, Le Maner launched a comeback on "Aperiko". Despite this, Bergmann and Cook are too fast and consistent, and Le Maner's ESWC journey came to an end as he took third and secured 7th place in the tournament overall. A great result, especially considering it was Le Maner's first ESWC.
As mentioned previously, Le Maner drove for Team Acer for STC10. Although the majority of the matches he played for Acer came after Electronic Sports World Cup, he drove a few matches before he left for Paris. Despite focusing mainly on the ESWC map pack, he still drove well on these maps. Against Ravage, he put up really great scores on the map he drove.

OmnipotZ topping the scoreboard against Team Ravage. Picture: Kalle "frostBeule" Videkull
In the quaterfinal against Funteam, Le Maner drove two maps, scoring second in points on both of them. Only

Ördög "Royal" Botond and

Guiseppe "B3pp0'92" Casella gain more points. Next up for Acer is the semifinal against Very Short Players, who unfortunately did not have their star player

Sander "
Sandder
" Kuusik driving. Le Maner is on the road again, playing safe but still good enough to gather more points than every VSP player.
Team Acer's victory put them through to the grand final against Team Dignitas. Le Maner didn't play in the final, but Acer won the tournament straight by beating Dignitas 2-0.
The ninth Nations Cup coincided with STC, and Le Maner's France took first place. After the group stage, it was clear that the competition was a two-horse race. Both Germany and France, with full lineups of active players, made it to the grand final. Le Maner played an important part in France's win, playing many of the matches up to the final but also in the final itself, where he was the fourth best out of ten players on both maps played.
Le Maner also drove the CPS14 groupstage during December, but became inactive towards the the end of the year, driving only some of the matches with average performance.

Titouan "OmnipotZ" Le Maner had a short yet great year in competitive Trackmania. After a comeback with Fureur, he eventually sided with joining the more active Team Acer as a full member.
He didn't drive as much as some other top pro players during the year, but all his results were good in both team and solo competitions. Particularly impressive was his seventh place result in Paris.
Taking all things into consideration, we place Le Maner
in tenth place.
Video: ESWC LB final, casted by Kalle "frostBeule" Videkull.