06 Mar

Top 20 of 2014: frostBeule (11)
Written by leo in Community / Trackmania² Stadium

This is the tenth in a series of articles revealing the top twenty TrackMania²: Stadium tech drivers of 2014. For more information, see the first post.
frostBeule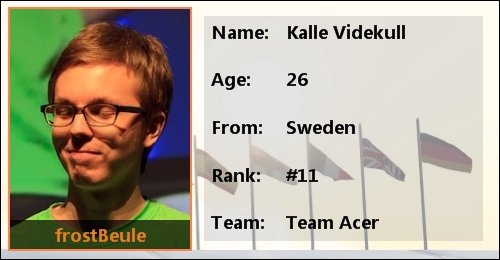 Number eleven in the Top 20 of 2014 is

Kalle "frostBeule" Videkull, one of the most experienced and accomplished players on our list. The 2008 World Champion has for years shown his formidable speed and consistency online, and 2014 was no different in that regard. Videkull decided to retire in late Autumn, coinciding with the grand final of Stadium Team Championship 10 between Team Acer and Team Dignitas. Team Acer won the match, and with that, Videkull has won all major tech competitions at least once.
Over the year, Videkull played an important part in securing many key results for his team, starting with the Competition Premiership Season 12 playoffs. His semi-final performance versus BX3 was essential to their victory; Videkull won many crucial rounds in the marathon of a 2v2 that ended 12-10 in Team Acer's favour after 26 rounds, and he also scored higher than all of his opponents in the regular and decider five versus five submatches. He was unable to deliver such a performance against Acer rivals Team Dignitas in the tournament's grand final. The Swede and his team mates were ultimately outclassed by their opponents; a fantastic showing from

Jesper "
KarjeN
" Karjalainen in the third submatch allowed Dignitas to take it with a 4-0 score.
However, Team Acer came back strong for the TrackMania Masters Team Cup 2014, and Videkull as usual played a large part in their success. He played at least one submatch against each of Team Acer's opponents, and after playing many one-sided group stage matches, Videkull led his team through the playoffs. He played all six submatches in Acer's 2-0 victories over eSuba, Very Short Players and Penta Sports in the rounds of 32, 16 and 8 respectively, topping the scoreboard in an incredible five of these. Acer's first real challenge was the semi-final match against Team Dignitas. While he could not carry as he did in the previous matches, Videkull was the second best Acer driving according to the points, showing that he did not let his side down. He once again returned to the top of the scoreboard in the third place match against 3DMAX!, ensuring that Team Acer took third in the tournament.


Kalle "frostBeule" Videkull tops the scoreboard against Penta Sports in the TMM playoffs.
The year's second major tech team tournament was ESL's CPS13. Starting May eighteenth, the tournament once again saw Videkull prove how large an impact he had in team matches. From the get-go, he was topping scoreboards: in the first two group stage matches, he was the highest scoring player in four submatches. The group stage match between Team Acer and Team Dignitas was likely to decide which of the two teams would win the group stage and progress directly to the competition's grand final. Videkull tried in vain to carry his team to victory in the 2v2 and 3v3 submatches, gathering more points than his teammates in both, but

Tim "Spam" Lunenburg, and Videkull's longtime rival Karjalainen, denied Acer from winning either with superstar performances. Because

Michael "PokeR" Neuhold beat Dignitas'

Dennis "Massa" L
ø
tze in the one versus one, Team Acer could still take away a draw if they won the five versus five submatch. Videkull, determined to make something of the match, gave absolutely everything, topping the scoreboard and leading his side to a 7-3 victory against a team of four world champions and the highly skilled L
ø
tze.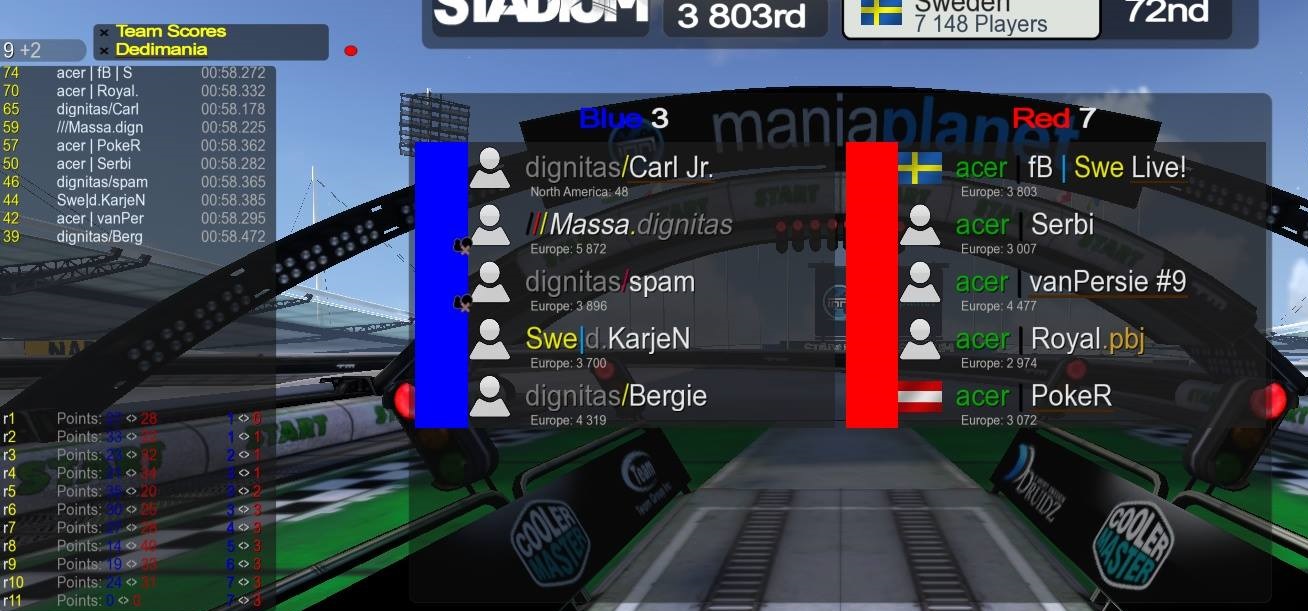 Videkull carries Acer against Dignitas in the CPS13 group stage.
Despite this effort, Team Acer took second in the group stage due to having won one less submatch than Team Dignitas. In the semi-final against BX3, Videkull played only the two versus two. Although his team mate

Ördög
"
Royal
" Botond
played well, it was Videkull who did the most to ensure that Team Acer took the submatch, laying the groundwork for a clean 4-0 victory. The grand final was the fourth TrackMania "El Clásico" of the year so far, and just as in the group stage match-up between these two giants, Videkull was one of Acer's best. The score was 1-1 after the 1v1 and 2v2 submatches, and a 3v3 on 'ESL - Be Happy' was up next. Videkull once again combined well with Neuhold—only

Fredrik "Bergie" Bergmann was able to drive on par with them—and Acer took it 7 points to 5.
What followed were two of the closest five versus five matches of the year. First, the regular 5v5 on 'ESL - Bigfoot'. After going to tennis mode, Team Acer had the lead at 6-7, but were unable to close the match, and Team Dignitas won several close rounds to win 9-7. Three players amassed over 100 points in the match, namely Videkull, Neuhold and

Henri "
Insane
" Kyynäräinen, but three Acer players sat at the bottom of the scoreboard. In the decider, Videkull took third in the points table, with team mates Neuhold and Botond securing spots directly above and below him. However,

Carl-Antoni "Carl Jr." Cloutier's impressive driving, coupled with the fact that Acer players

Koen "Koenz" Schobbers and

Giuseppe "B3pp0" Casella had a bad match, meant that Videkull hadn't done enough to secure victory.
Three months passed until Team Acer participated in another meaningful team event. (The imL cup started in September, but since it ended prematurely, we are not going to consider it a major event). Stadium Team Championship 10, starting in October, was Videkull's final chance to lead his team to victory in a 2014 team tournament. As usual, Acer breezed through the group stage, but also, rather impressively, made it to the grand final losing only four rounds in three playoff matches. In these three playoff matches, Videkull scored the most submatch points 3 times, and scored second most once. It was before grand final, after a heated argument with members of Team Dignitas on the match page, Videkull announced that he would retire after the match's conclusion. After struggling to carry his team in the last three grand finals, Videkull finally had his team mates play as good as or better than him, and together they defeated Team Dignitas in two maps. It must be said that the Dignitas lineup put forward on that day, missing key players Cloutier and Karjalainen, was not the strongest they could hope to muster, but Videkull could nonetheless retire in the knowledge that his swansong was to take a win against the Acer rivals.
In the way of individual cups and tournaments, Videkull has little to show besides a top eight finish in February's Alienware Cup. He did not attend Electronic Sports World Cup since he actively boycotted the organisation for most of the year. Videkull, who started his dispute due to unpaid prize money from his 2008 ESWC victory, managed to reach an agreement with the tournament organisers before the 2014 edition was played, but too late for him to attend the event himself.
As we can see,

Kalle "
frostBeule
" Videkull was instrumental in ensuring that his team finished within the top three in two CPS seasons, the 2014 TMM Team Cup, and the tenth edition of Stadium Team Cup last year. While not always the fastest Acer player, he rarely, if ever, let his team mates down. We would have liked to see more in terms of solo cups from the Swede, particularly a run at the ESWC "world championships", and with that in mind we award him a respectable 11th place in our ranking.
Video: STC10 grand final. Video:

Andy "Sabre" Wilson.