04 Mar

Top 20 of 2014: znik (13)
Written by leo in Community / Trackmania² Stadium

This is the eighth in a series of articles revealing the top twenty TrackMania²: Stadium tech drivers of 2014. For more information, see
the first post
.
znik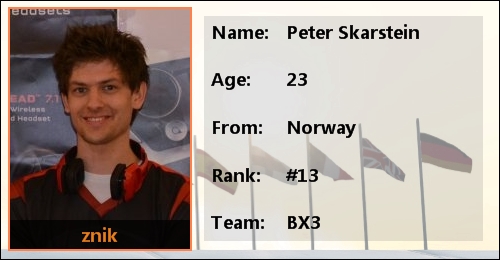 Thirteenth in the Top 20 of 2014 is

Peter "
znik
" Skarstein, BX3 co-leader. Reputable for his explosive performances, the 23 year old Norwegian is able to challenge the best in individual tournaments, and also plays a key part in his team's continued success. The Norwegian started the year off fairly quietly, but after Electronic Sports World Cup announced that they would once again host TrackMania, Skarstein became more active, securing achievements that put him firmly within our Top 20.
The first half of 2014 saw Skarstein mostly stream, but even when he did play, his success was fairly limited. A combination of deciding to play February's Alienware Cup using a keyboard, instead of his prefered gamepad, and not training the maps enough to stay competitive, meant that Skarstein failed to make it to the second knockout round of the competition.
In April, Skarstein attended his first LAN event of 2014. The Gathering, held in Hamar, Norway, is one of the world's largest annual "computer party" events, attracting between five and six thousand visitors each year. In 2014, Skarstein was responsible for organising the event's TrackMania competition. Played on the 35-50 seconds long TrackMania Masters Team Cup maps, the tournament was in the style of bigger LAN events such as ESWC and Gamers Assembly. Skarstein's main competition was from

Tim "Spam" Lunenburg, and fellow Norwegians

Sigurd "Ziggy" Mikkelsen and

Asgeir "TommyD" Hansen. All four of the aforementioned made it to the competition's grand final, but Skarstein, who had been playing great throughout the tournament, found his gamepad incompatible with the computer setup used for the final. Using a spare keyboard, he was unable to keep up with the rest, taking fourth place and missing out on the prizes distributed among the top three.
Skarstein's contribution to BX3's third place finish in ESL's Competition Premiership Season 13 was fairly minimal. In the group stage match between BX3 and Funteam, he was neither fast nor consistent enough to secure his team the three versus three submatch, gathering the second least points out of all six players. A week prior, on the same map, he was defeated 7-2 by Lunenburg in a one versus one. Out of the five submatches he played in the group stage, Skarstein's most important was the 5v5 against Penta on the first play-day. Just six points behind points leader

Fabian "Chillerside" Schroer, he was crucial in securing BX3's win since three of his team mates landed themselves below the halfway mark in the points table. By the end of July, Skarstein did not have a lot to show for himself as far as TrackMania goes.

Skarstein importantly secures third in points in the CPS13 group stage.
That is when things appeared to change. Electronic Sports World Cup was announced, and motivated by the opportunity to meet and compete against the very best of the TrackMania tech scene, Skarstein trained hard to ensure that he took a spot in the competition's main event through the Norwegian qualifier. At the Oslo-based event, one of many LAN events at Gigacon, he took second behind

Fredrik "Bergie" Bergmann after leading for most of the match.
At the competition itself in Paris, Skarstein secured a spot within the top twelve players after an impressive first day of racing. After securing a solid 13th place in the Time Attack seeding, he and the other 27 competitors were placed in the winners bracket.

Koen "Koenz" Schobbers and Skarstein were the favourites to progress from their first-round group, since the third and final player,

Julian "Asserich" Novaček, had not experienced playing at such a LAN before. Novaček didn't manage to cause an upset; Skarstein took first place, and moved on to meet

Dennis "Scrapie" Heinen,

Benjamin "Kronos" Suzenne and

Tim "Spam" Lunenburg. The game was close, and after Suzenne took first, all three of the remaining players found themselves in finalist mode, meaning the next player to win a round would go through, sending the other two to the losers bracket. Skarstein looked to take the round that followed, but Lunenburg, with an amazing last couple of turns, overtook Skarstein, finishing mere hundreds ahead of the Norwegian.
Seemingly unphased by this, Skarstein dominated his first match in the losers bracket, where he and his team mate

Leo "Leo" Falcomer-Dawson knocked out the last remaining Finns in the tournament:

Mikael "MiQuatro" Jäppilä and

Henri "Insane" Kyynäräinen. In his next match, Skarstein's performance was again fantastic, this time taking first against

Dennis "dNs" Latz,

Pascal "DeviL" Albusberger and

Titouan "
OmnipotZ
" Le Maner. In both matches, he won before any of his opponents reached finalist mode, showing that he is able to dominate matches when focused.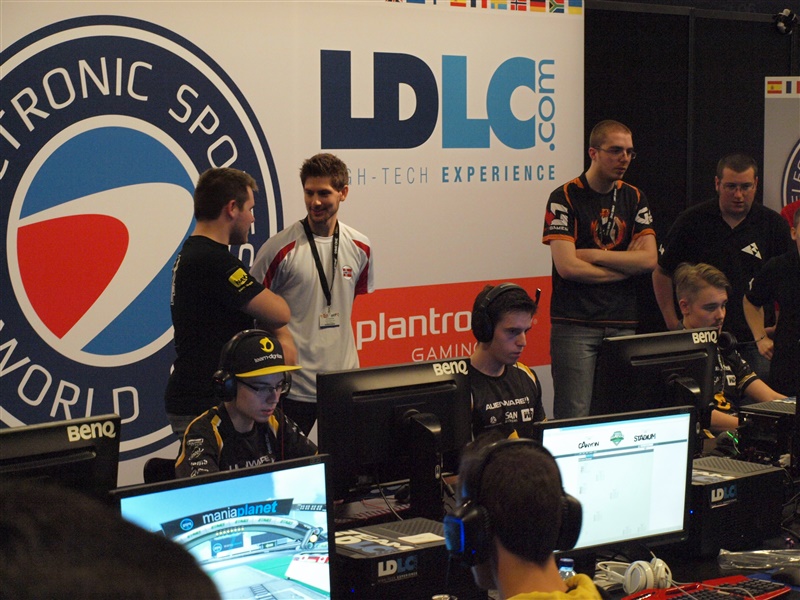 Skarstein in conversation with

Philippe "wally" Trudeau at ESWC. Credits: Kjetil Thorsen.
Skarstein's pace the next day, however, was much slower. The first maps of his losers bracket semi-final against Bergmann,

Robert "Tamarillo" Crone and Schobbers saw Skarstein sitting in last place, and a comeback looked unlikely. After looking so great the previous day, Skarstein was knocked out of the tournament in 11-12th position.
This was not the only time last year that Skarstein's performance took a dip towards the end of a tournament/cup. ESL hosted Go4TM four solo cups throughout December, and Skarstein made it to the final in three of them. Impressive as this sounds, he took fourth all three times after either playing well in the semi finals or at the start of the final itself, showing that his competitors were a step ahead of him when it came to either handling the pressure or staying focused throughout the long competitions.
Coinciding with the Go4TM cups was the start of the CPS14 group stage, and Skarstein had less trouble performing great in the three group stage matches he played. On December
7th, he played well in the 3v3 against Penta Sports, and a week later was two points away from topping the 5v5 scoreboard against eK. As well as this, he defeated

Florian "oNio" Roschu in the one versus one submatch. On December 21st, he continued to lead his team to victory, scoring highest for BX3 in the 3v3 and 5v5 submatches.
Taking all things in consideration, we see that

Peter "
znik
" Skarstein had a highly-priaseworthy second half of 2014. Like many players, he has issues closing high-pressure matches, and because of this does not have as much to show for himself last year as some other drivers who are perhaps just as skilled as he is. Still, he was consistent and fast enough on a significant number of occasions, earning him the number thirteen spot in our list.
Go4TM Cup #3 final. Video: Peter Skarstein.