03 Mar

Top 20 of 2014: Zack (14)
Written by wormi in Community / Trackmania² Stadium

This is the seventh article about the top twenty TrackMania²: Stadium tech drivers of 2014. For some more information, see
the first post
.
Zack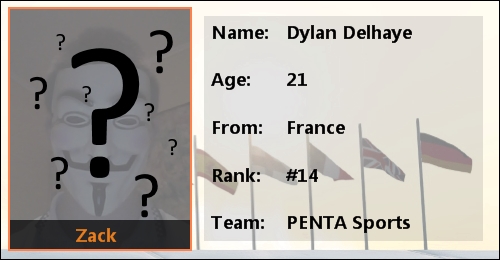 Coming in at number fourteen is

Dylan "
Zack
" Delhaye. The second Penta on our list, Delhaye found success both in team events and solo cups. When the year began, Delhaye was playing for Elite, but the team didn't make it to the playoffs in CPS12, and therefore the tournament ended before Christmas break for them.
In February, Delhaye took part in TrackMania Masters Cup Series. In the semi final, where eight drivers competed, he took second and secured a place in grand final with

Fabian "
beat
" Kuehn,

Thomas "
Serbi
" Pedersen and

Benjamin "
Kronos
" Suzenne. Kuehn, who won the semifinal, didn't manage to keep his level again and Pedersen won the cup rather easy. Suzenne and Delhaye got finalist at the same time, but Suzenne took the round win and left Delhaye as third.
About one week later Alienware Cup #38 was played, coinciding with Penta Sports picking up the Elite squad. This was Delhaye's first big event representing the new German organisation, and he didn't have a lot of problems passing the earlier stages of the event, soon finding himself among the top eight players. In the semi final, he beat

Marek "tween" Pacher and

Eric "Shark" Brems, continuing to grand final together with

Dennis "
Massa
"
L
ø
t
ze, and two players from the other semifinal,

František "
NeO
" Filiačs with

Dennis "
Scrapie
" Heine
n. In the final, Delhay stepped it up hard, and was able to beat his opponents and claim the £200 cash prize.
Soon after Alienware Cup Delhaye began a hiatus from competitive racing. He didn't drive ESL CPS13 with Penta, or any of the numerous solo tournaments like myRevenge cups or Stadium Giant Cup 1 during the summer either.
The Frenchman came back in October to drive Stadium Team Championship 10, and represent France in Nations Cup 9. After his long break, Delhaye was refreshed, and there to help his team in every single match of STC10. Penta's performance overall was great and the team made it into semi final, where they faced Team Dignitas. In the first track, Delhaye had a bad start, but when it mattered the most he took some important points.

Mikael "
MiQuatro
" Jäppilä, who had joined Penta before the tournament from his previous clan Drivers From Finland, carried the team gaining the most points, but Delhaye took fourth in the records right after Dignitas-duo

Thomas "Pac!" Cole and
L
ø
t
ze, and helped Penta to win the map 7-6.
In the second map Delhaye was on track again, and also was one of the key players of Penta. When Dignitas were leading 4-6 and therefore having match point, Delhaye had a giant crash. However, Penta took the round as all four other players finished in a row right behind the lonely Dignitas player

Tim "
Spam
" Lunenburg. Next round Dignitas finally managed to close the map 7-5, and the match went on decider multilap.
Delhaye took second on the first round, and since it was his team mate

Kevin "
Safran
" Luu in front, Penta got the round. Despite played quite well the other rounds too it was Dignitas who won the other rounds and also the whole match overall, leaving Penta have 3-4th place in the tournament.
In Nations Cup, Delhaye was the best French player on the first map of the grand final, letting only

Calvin "
Dovi
" Kuhnt amass more points than him. His efforts helped France to win the map 7-5. In the second map France swiftly closed the match with a 7-3 result, when Suzenne and Delhaye, with

Titouan "OmnipotZ" Le Maner, were too strong for most German players.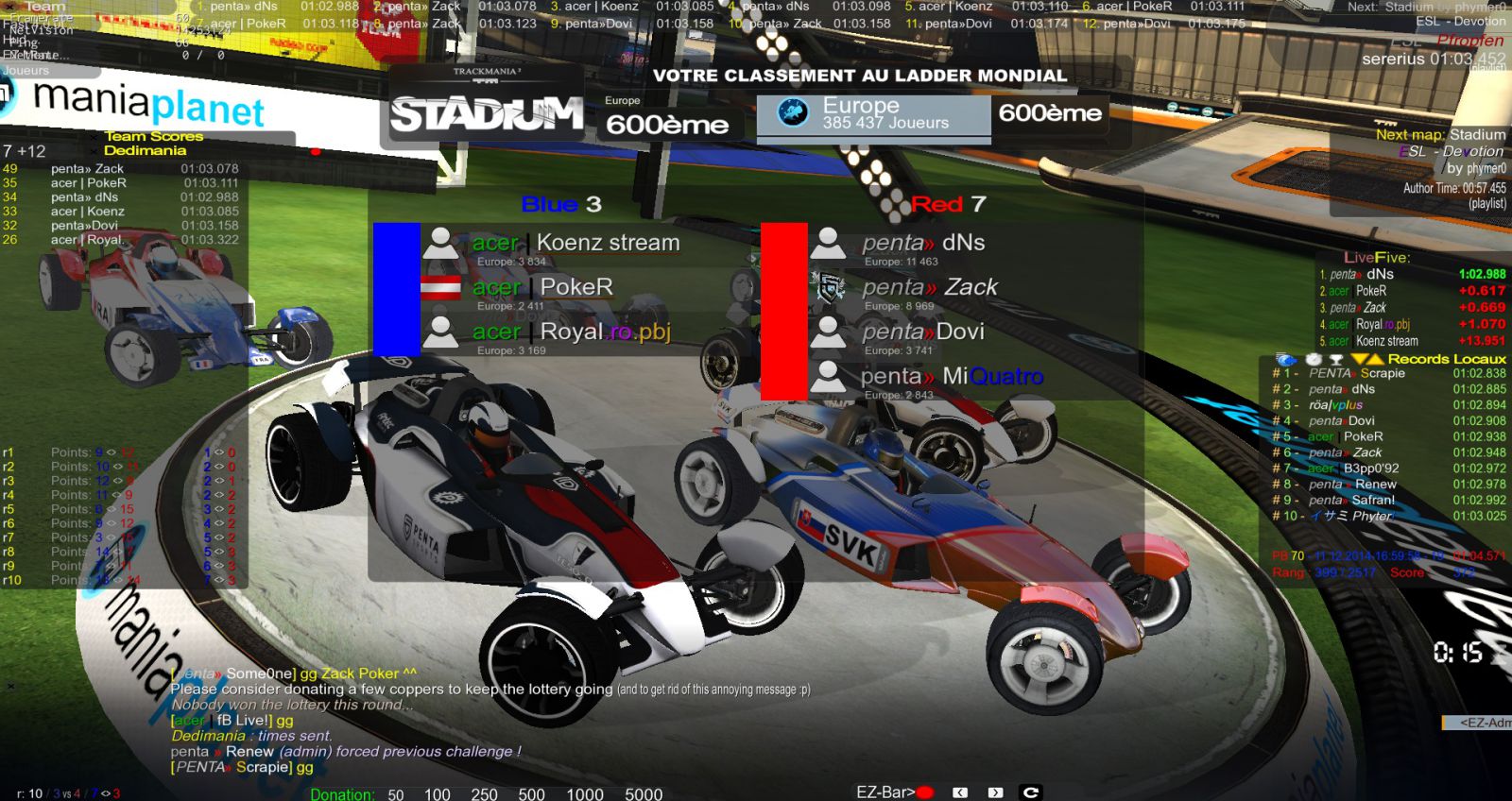 Delhaye dominates a three versus three against Acer in CPS14.
In the very end of November Delhaye took part in Open Gaming Series tournament. In the final he got

Niklas "
Beef
" Leuther,

Manuel "
Habi
" Blesa Lacárcel and his team mate Heinen to race against. Delhaye was first to get finalist mode, but didn't manage to close the match on his frist try. He failed also the following round, but Lacárcel was there to deny Heinen the win, who had gained the finalist mode as well. Third time a charm, Delhaye managed to win a round beating Heinen with a couple of hundreths of a second and took the victory.
Delhaye's year in TrackMania didn't end there; arguably some of his best performances were during ESL CPS14's group stage. Somewhat unfortunately for the Penta players, they faced all three of most dangerous opponents in December. However, a string of solid performances meant that they took 6 out of 9 avaliable points from these matches.
In the first match, versus BX3, Delhaye showed flair by winning the 1v1 against

Peter "znik" Skarstein, and also scored the most points in he five versus five. Penta deservingly took the match 6 submatch points to 0, and spurred on by this, only dropped one submatch to Team Acer the following week.
In this second game, Delhaye dominated the 3v3, scoring 49 points (14 more than

Michael "PokeR" Neuhold in second, who actually beat Delhaye in the 1v1), and landed himself in the middle of the 5v5 points board. On December 21st, Penta played Team Dignitas, and after losing to them in STC, Penta were keen to get revenge. It was not to be, however, and the match highlighted how the Penta squad, laden with talented but somewhat inexperienced players, could not always handle the pressure. Despite a strong showing on the 2v2,
L
ø
t
ze and Lunenburg defeated Delhaye and
Jäppilä, after the Finn was unable to step up and support his team mate.

Dylan "
Zack
" Delhaye drove averagely compared to the other players in the 5v5, but Penta were let down by the young Belgian Heinen, who on more than one occasion could not reach the finish. Overall, Dignitas took it 5-1.
CPS14 coincided with the ESL Go4TM events, in which players fought to earn points each month in four weekly events. The eight players with the most combined points each month would progress to a monthly final, where 150 euros was up for grabs. In the December cups, Delhaye made the semi finals three times, once progressing to the final where he took fourth behind

Andy "Sabre" Wilson,
L
ø
t
ze and Pacher. All in all, he did enough to reach the monthly final, which was played at the start of 2015.
Delhaye was both fast and reliable for his team throughout much of the year, and also in 2014 proved himself a formidable opponent in individual cups and tournaments. For his efforts, he takes the 14th spot on our list.
Alienware Cup 38 Final (skip to 23:00). Video from r2k.