28 Feb

Top 20 of 2014: Royal (17)
Written by leo in Community / Trackmania² Stadium

This is the fourth in a series of articles revealing the top twenty TrackMania²: Stadium tech drivers of 2014. For more information, see
the first post
.
Royal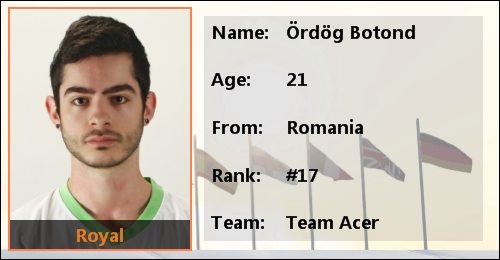 Coming in at number seventeen we have Team Acer's

Ördög "
Royal
" Botond. In 2014, Botond played in every major team tournament and a variety of solo competitions, securing good results against many in the pro-scene.
Botond's driving during the first half of 2014 was, on the most part, very impressive, although the year started somewhat badly for the twenty-one-year-old. The Romanian's first competitive race of the year was none other than the Grand Final of CPS12, which saw Team Acer face rivals Team Dignitas on January twelfth. Botond was unable to match the incredible display of skill the Dignitas players showed, scoring the least points in both submatches he played.
However, a string of great individual performances in the next major team event of the year, the TrackMania Masters Team Cup, show us that Botond is in fact very dependable. In the playoffs, which started on the 30th of March, he placed in the top half of the score table in four out of the five matches he played, achieving the second highest points total in an impressive five submatches. Botond led the charge as Team Acer swiftly dealt with eSuba, Very Short Players (vsp) and Penta Sports, but his hot-streak was ended at the semi finals stage, where Team Acer again met Team Dignitas. He was once again at the mercy of Dignitas' all-star lineup, scoring badly in both submatches as Dignitas took the match 2-0. However, since Team Dignitas were favourites to win the match after securing the CPS12 title, the defeat should not undermine Botond's otherwise fantastic TMM season.
It was beginning to look like Dignitas was Botond's kryptonite. The next time Team Acer would face Team Dignitas in a knock-out match was in the Grand Final of CPS13, held on July 6th. Although he played much better than during the TMM Team Cup, achieving a high points total in two of the four sub matches he played, Team Acer were once again runners up after taking Team Dignitas to a decider map. Botond finished the first half of the year on the verge of putting out world class performances, but unable to take the final step to do so.
Royal scores highest in the CPS13 final versus Team Dignitas. Credit: frostBeule
From June until September, Botond played in a range of individual competitions, with some noteworthy results. On June 21st, he took third in the second myRevenge Cup behind

Tim "Spam" Lunenberg and

Dennis "
Massa
" L
ø
tze, and ahead of

Benjamin "
Kronos
" Suzenne. A month later, he won the third and final edition of the myRevenge Cup Series, this time defeating

Michal "
Flyer
" Vo and

Titouan "
OmnipotZ
" Le Maner, along with Suzenne, in the final.
After failing to reach the final of the THC Solo Cup in August, Botond was knocked out of Stadium Giant Cup 1 in the final of the losers bracket a little over a month later.
The finals of the last major team event of 2014, Stadium Team Championship 10, started on November 9th. A well-prepared Team Acer progressed through their half of the playoff tree without dropping a map. Botond was, as in TMM Team Cup 14, doing great work in these matches, and they looked like a mere formality while Acer mentally prepared for the almost inevitable clash with Team Dignitas in the final.
Grand final matches are always highly anticipated, but this one more so than ever after a public argument involving members of both teams the night before the match.

Kalle "
frostBeule
" Videkull, captain of Team Acer, announced that this match would be his last, and his team saw him off in style as they defeated Team Dignitas 2-0. Botond played both maps, scoring third highest on the first map but third lowest on the second. Once again, we are shown that Botond struggled in 2014 to carry his team on more than one map when the pressure is high.
Looking at the year in its entirety, we see that Botond was able to consistently dominate in playoff matches, and place respectively in a host of solo competitions. However, he did not attend any LAN events and thus has no offline achievements to speak of, and sometimes was seen to choke when it mattered most. All in all, we feel he is thoroughly deserving of his spot on the list.
STC10 Grand Final. Recorded and driven by Spam.