27 Feb

Top 20 of 2014: Flyer (18)
Written by wormi in Community / Trackmania² Stadium

This is the third article revealing the top twenty TrackMania²: Stadium tech drivers of 2014. For more information, see the first post.
Flyer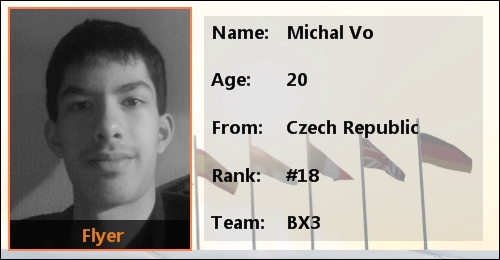 Taking the 18th position in our list is

Michal "Flyer" Vo, a Czech player who competes with BX3. He has gathered a list of impressive results since he joined the Norwegian squad in late 2012, and often drives outstandingly in team matches against top-level teams.
Vo is mainly known for his often fantastic team match performances. He started the year with ESL CPS12 playoffs, in which BX3 took third place. Some months later, CPS13 in particular highlighted his ability to deliver in important matches for BX3 in 2014. In the season's group stage match between BX3 and Team Dignitas, he amassed 85 points in the 5v5 submatch, just one behind the point leader, now more or less retired WCG champion

Jesper "KarjeN" Karjalainen. In another 5v5 submatch, this time against Team Acer (also in the group stage), we saw Vo achieve a points total of 111, just two behind the points leader

Ördög "
Royal
" Botond, in a thriller that BX3 took 9-7 mainly due to the heroics of Vo and

Fabian "beat" Kuehn.
Flyer and beat carry BX3 a map in CPS13 groupstage against Team Acer. Credit: frostBeule
This being said, it is not always possible to rely on the performance of Vo.
For example, during the playoffs, Vo played 2v2 submatches against both PyRo-LDLC and Team Acer, and he seemed shaky in both. In fact, both Acer players scored more points than Vo in the Team Acer match, although that could be put down to fantastic performances from Botond and

Kalle "
frostBeule
" Videkull rather than any shortcomings from Vo. In other words, Vo is still a bit too inconsistent to rank higher on list, but has potential to beat almost anyone on a good day.
His solo achievements in 2014 include a third place finish in the third myRevenge Cup in July and placing 5-6th in SGC1 later during the autumn. As well as this, Vo took fourth place in the Czech TrackMania championship LAN MČR behind well known players

Jakub "Horeni"

Hořejší,

Martin "
Kappa
" Krompolc and

Jakub "kubayz" Faul.
Just as we examined earlier, we see a dip in Vo's ability to drive superbly when the stakes are at their highest. It is possible that, since he has not won many large cups before, he has not yet developed a "winning mindset". If this mental barrier is overcome, how high a level the Czech player could reach is up for speculation.
Thanks to Vo's ability to decide matches and great performances Vo takes the 18th spot of our list.
Video: CPS13 groupstage, casted and driven by frostBeule