This article was written by a member of the community !
25 Feb

Top 20 of 2014: Sandder (20) & Introduction
Written by leo in Community / Trackmania² Stadium

2014 was big year for competitive TrackMania. It saw the shift from Nations Forever to TrackMania²: Stadium for almost all major tech competitions, the continued success of well-established players, and the return of old faces to the scene. All this, as well as breakout performances from some of the newer members of the scene, led to many close and exciting matches over the last twelve months.
People often wonder how the best players stack up against each other. "Who is the best player of all time?" is a question that has been asked countless times, and we can only speculate as to how legends of the past would fare against the current generation of pro players. What we can do, however, is compare those who are currently playing the game with their opponents, and in doing so, hope to form a list of the best players of 2014.
After many hours of collecting results from the past year's tech competitions, both online and offline, a team made up of

Leo "Leo" Falcomer-Dawson (myself),

Andy "Sabre" Wilson,

Kevin "Safran" Luu and

Peter "znik" Skarstein started analysing the data. After realising the potential of such a project, we decided to branch out further, creating a team of dedicated players and TrackMania enthusiasts to work on making the list come to life.

Florent "Some0ne" Gaudiller,

Ilkka "
wormi
" Pääkkönen and

Mathieu "
cR4p0
" Debien joined in and the group was ready.
After listing the players we felt played outstandingly in 2014, we individually produced 'top 20' lists, and compiling them led to the ranking you will find below. (Note: players were unable to list themselves in their rankings.)
This ranking, while constructed around actual results, is based on the opinions of the ranking team, and is not affiliated with Mania-Actu.
The Process
The first step in creating our ranking was to create a shortlist of players who impressed us over the course of 2014. After this, we set out to gather results from a range of competitions, online and offline, and evaluate each player's performance in each. The cups and tournaments we considered were limited to the 'tech' driving style, since that is arguably the game's most popular driving style and the one the team collectively knew the most about.
Next came arguably the most difficult part of the ranking process: deciding where to place the players. All sorts of questions arose during this time; how do we consider team results in our ranking? How much weight should we give to offline results, since the vast majority of competitions are held online? At this point, we had little choice but to use our own personal judgement, and also the input of a select number of community figures.
At this point, the rankings jury, consisting of myself, Wilson, Luu and Skarstein, was left to create independant, personal top twenty lists. By combining these lists, the final ranking, which you will see released in articles here on Mania-Actu, was created. As mentioned above, no player was allowed to rank themselves in their list. I hope that you will enjoy what we have accomplished with this list.
Without further ado, let's just straight into our list at number 20.
Sandder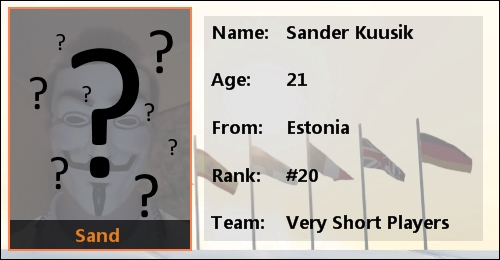 Sander "Sandder" Kuusik is a veteran of TrackMania, and has been playing at a high level longer than almost every other player in our top twenty list. Whilst known very much as an all-rounder due to his skills both in Stadium and the United environments, the Estonian has undoubtedly proven himself a formidably strong tech driver, and he showed this in team competitions driving for his current team VSP.
Particularly noteworthy was Kuusik's dominant consistency and speed in the Stadium Team Championship 9 match against BX3, leading to VSP advancing to the semi-finals in what was seen by many as an upset. On first map, Kuusik already took the most points, but since the BX3 lineup led by

Michal "Flyer" Vo was overall strong on the map it was the Norway-based BX3 winning the map 7-6. On the next map Kuusik already had 17 point lead to others after six driven rounds, and VSP was leading 4-2. Vo and BX3's guest player

Florian "aswer" Domitile played well and they got closer to VSP as Kuusik had some bad rounds, but at tied 6-6 situation, and now it was VSP winning 7-6 with all their players doing a nice round - led by Kuusik of course. The multilap track was going to decide the match, and VSP showed sick consistency on it winning the map straight 3-0, and heading to semifinals agains team Acer. Unfortunately Kuusik wasn't able to drive the semis though, which meant that Acer met a lot weaker VSP than BX3 did.
Kuusik also played great against Team Acer on the third CPS14 playday, scoring highest in the 2v2, 3v3 and 5v5 submatches, leading VSP to a well-deserved draw. In two-to-two, Kuusik absolutely outplayed the Acer squad, taking a way more points than anyone else. Even though this draw was earned during Team Acer's post-STC performance slump, Kuusik's impact in the game is not to be understated. He played fine also in other matches he took part in, but he also stated that he won't continue driving the leagues after the CPS, getting tired to train as much as needed as his reason.
It is very much thanks to the performances of Kuusik that VSP are able to stand up to much more established teams, so much so that in his absence VSP are seen to struggle. Kuusik also showed good individual skill when he placed third in ESL's third GO4TM cup behind

Marek "tween" Pacher and

Andy "
Sabre
" Wilson. The large amount of Go4 wins accumulated by some players somewhat seems to undermine this result, but since 2014 only saw four of these cups, and each was highly popular in terms of sign up numbers, we feel that this result holds some weight.
For the reasons mentioned above, we feel that Kuusik is deserving of a place in our top 20 list.
Video: CPS13 VSP vs Acer, casted and driven by frostBeule.