21 Dec

ESL Dirty Night Cup #11 - Bepino and Gswe81 wins !
Written by Deejay in Competition / Trackmania² Stadium

Christmas is soon, and the

ESL staff wanted to offer a nice present to the Dirt players : a Dirty Night Cup#11 2vs2 !
After 3 years ...
Last month I said you that the ESL wanted to make a break until 2014 - but surprise, they decide to do a DNC in 2vs2 which was not organised since more than 3 years, on the Nations Dirt Cup final mappack. 26 teams were registered before the check-in, but only 16 have been able to participate. It was without a big suspense that the team

Bepino /

Gswe81 won this DNC#11, despite the nice fight with the team

Alban /

Papou in final. Sadly, there wasn't a match for the 3rd place, and teams

Devil /

Néo &

Boss.Wanted /

Jessy finished ex-aequo.
Podium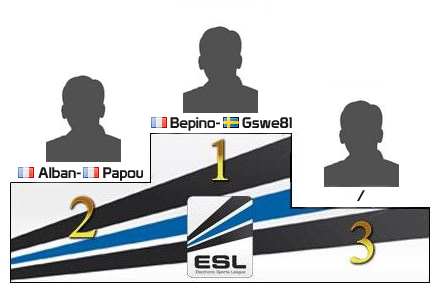 [FR] VOD