26 Mar

TFET2 : Final!
Written by infarctus in Competition / Trackmania² Canyon
hey guys! Time has come for serious things on this second edition of the most than famous Formula Race! After having sweated blood and miasmas during 2 long months, only 15 teams managed to qualify for playoffs and remained alive from the odious ET Portal's war plan! Every Sunday was a massacre, but it was far from being what these upcoming days deserve to all the poor drivers that signed up. Darkness has now a name and is here for one thing : Unlight the heart of every teams that will be entombed by the defeat. Call it fear, evil or Demon. I call it hat3d, KFR, GR or unregu!
Final group :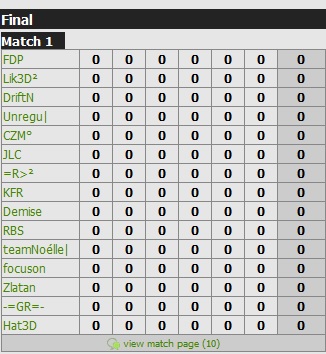 Source : http://www.et-leagues.com/tfet2/
So 15 Teams will fight on 6 maps during 2 long weeks, with 3 maps every Sunday. We wish to all the teams good train and luck. And bring us a hell of a show!